Patt.23 (1953 - 1983)
Strand
500W profile
The Pattern 23 was the first mass-produced theatre spotlight in the World. Die-cast by the 5000 for a market in which a gross (144) was thought to be an outsize batch, it was destined to run for thirty years.
Designed by Morgan McLeod.

Baby profile spot
Beam angles: 17° (hp), 30° (tp)
Output: 18000cd
Throw: 8m
Wattage: 500W
Lamp: T/1 500W, T/17 500W P28s lampholder
Colour filter size: 100mm x 100mm
3.75kg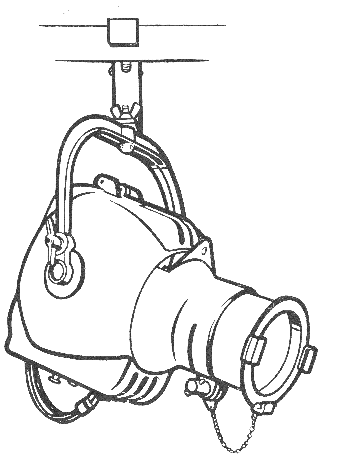 Patt. 23 Mark I: 1953 - no shutters - masks are used to shape the beam
Specification of Mark I:
Ventilated die-cast aluminium body and lens tube assembly designed with medium prefocus lampholder for the alternative lamps listed below. Body is hinged at the rear to give access for lamping and cleaning. Rear part carries a 7-in. diameter super pure anodised reflector and the front half a 7-in. diameter annular spherical reflector to collect light which would otherwise be masked off and wasted. The light is directed onto a gate for diaphragm masks which are focussed hard or soft by an adjustable 3½-in. diameter, 5-in. focus p.c. lens in tube retained by safety chain. Four diaphragm masks with circular holes supplied as standard. Front of lens tube has runners for and is supplied with one metal colour frame. The cast fork with clamping disc and three-eighths of an inch Whitworth threaded hole is fitted with a ½-in. diameter plain stem, allowing lantern to be mounted on a stand. Stem can be unscrewed and replaced by any three-eighths inch Whitworth bolt for fixing to standard L clamps and other suspensions. Wired with 3 ft. heat-resisting tails and stoved crystalline black outside, matt black inside.
Lamps : 250-watt Class B.1 round bulb projector, 500-watt Class A.1 tubular projector*, or preferably 500 watt Class T projector, all with medium prefocus caps.
*Only to be used cap down and only tilted within 22½° of the vertical.

Patt.23S - Four built-in shutters
Patt.23F - Fresnel lens option, providing a diffused edge to the beam.
Patt.23N - 11 degree beam, suitable to use as a followspot
Patt.23N/RH - Equipped with rear handle (heatproof) when followspotting

Patt.23 Mark II: Launched in 1968/9. Equipped with 4 shutters.

PATT. 23 PRICING:
| | | |
| --- | --- | --- |
| DATE | HIRE (per week) | SALES |
| 1953 | | |
| 1961 | | £9 17s 6d |
| 1969 | 20/- (20 shillings = £1) | £12 12s 6d (Patt.23 Mk.II) |
| 1974 | £1.10 (AJS Theatre Lights) | |
| 1978 | | £44.00 |
| 1980 | | £55.00 |
| 1989 | | £100.50 for Minim 23 |
See also: Pattern 23 Fan Site and the Patt.23M (scale replica)
Related Venues:
Related Shows
Related People:
See also:
---
Documents
---
---
---
---
11476