Dates: 1976 – present
Regional arts centre in North West Wales which consists of five auditoria.
Official website: https://www.theatrclwyd.com/en/
Left to right: Strand Electric SP60 from Emlyn Williams Theatre, 1976; Rank Strand Galaxy 2 Premier from Anthony Hopkins Theatre, 1986; Strand Lighting 520i from Emlyn Williams Theatre, 1998; ETC Ion, Touring stock, present day.
The Anthony Hopkins Theatre – Main Stage
570 seats
Stage Depth: 15.57m from front of forestall to back wall
Proscenium Width: 10.65m
Stage to Grid Height: 18.48m
Stage Lift: 3.72m deep
1976 – 1986
MMS
The lighting desk installed in the Antony Hopkins Theatre during this period was a Rank Strand MMS Modular Memory System, capable of controlling 120 channels and recording their levels in a ferrite core memory for playback during performances.
1986 – 1996
Galaxy 2 Premier
192-channel memory control desk, installed in the Anthony Hopkins Theatre during 1986 to replace the original Rank Strand MMS system. This system enables the operator to control the lighting in a more sophisticated way than before which made it easier to create complicated lighting states and sequences, and introduced more automation and programmability to the playback of pre-recorded lighting states allowing the lighting designers for Theatr Clwyd productions to be more adventurous with the way in which they lit the productions.
1996 – 2010
Strand 530
2011 – present
ETC Eos
Our current generation of lighting console, which was purchased in 2011. This is one of three ETC Ion consoles owned by Theatr Clwyd, which are used either as stand-alone touring systems or as remote programming stations for the larger ETC Eos consoles which are permanently installed in the two theatres. These systems are very much at the cutting edge of lighting control, with the capability to handle the most advanced moving lights and LED technology available. Each of the Ion consoles is capable of controlling 2000 channels, while the Eos consoles can handle 4000 channels.
The Emlyn Williams Theatre
Adaptable studio space, up to 250 seats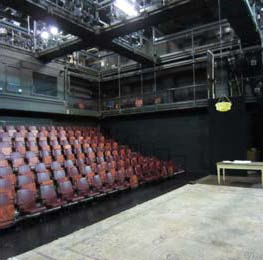 1976
Strand Electric SP60
60-channel 3-preset manual desk, installed in the Emlyn Williams Theatre when Theatr Clwyd opened in 1976. One of the last examples of this particluar model of lighting desk to be manufactured. Control was entirely manual – the operator made notes of the settings for each lighting state on paper cue-sheets, and had to manually set the levels for every cue in each performance.
Late 1980s – 1998
Rank Strand Gemini
The lighting desk in the Emlyn Williams Theatre during this period was a Rank Strand Gemini – the 'little brother' of the Galaxy, with much of the same functionality but in a physically smaller package and a smaller number of control channels.
1998 – 2011
Strand 520i
This console was installed into the Emlyn Williams theatre in 1998(?), a couple of years after its 'big brother' the Strand 530 was installed into the AHT. It was the first lighting desk at Theatr Clwyd which utilised the style of technology that we still use in 2016, being built around the processing hardware of a standard PC computer system. Theatr Clwyd had two of these 520i consoles – one installed in the EWT, and the other for use on touring productions and in other spaces in the theatre. This particular console has the capability of controlling 400 channels, with the potential for further expansion if required.
2011 – present
ETC Eos
Studio 2
Adaptable studio space, up to 120 seats
Formerly the base of HTV Wales
1976 –
SP80
1978 – 
Duet (when HTV took over the studio)
? – ?
Imagine 250
Present
No permanent desk – ETC Ion from touring stock used when needed.
Touring / Rehearsal Stock
Strand LBX
Strand 520i
ETC Ion
The Clwyd Room
Multifunction area, up to 300 seats
Cinema
120 seats
Exhibits from this venue in the Backstage Heritage Collection
Links to information about equipment at Theatr Clwyd Cymru over the years
Location

View in Google Maps