Dates: 1930 – present
Formerly known as the Whitehall Theatre (until 2004) and as Trafalgar Studios (to 2021), the venue reopened as the Trafalgar Theatre in Spring 2021, with a restored single auditorium and new seating.
Official website: https://www.atgtickets.com/venues/trafalgar-theatre/
Designed by Edward Stone as a small art deco theatre. Became closely associated with farce, especially those starring and put on by Brian Rix which became known as the Whitehall Farces (1944-1967). The Grade II listed theatre was extensively refurbished in 1985 resulting in a capacity of 646, and in 2004 was divided into two studio theatres, in the same way many large cinemas were split into smaller screens. Studio 1 consisted of the upper circle seating, plus 4 additional rows built onto the front, along with a stage area built above the original stalls seating and part of the stage area.
Studio 2 was built at the rear of the stalls, under the circle seating.
The single venue layout was restored in 2021, along with the original art deco features, which had been covered over.
Capacity
2021 Auditorium: 630 seats
Former Trafalgar Studios: Studio 1 had 380 seats; Studio 2 had 100 seats
Past Productions
Jersey Boys (opened 28 July 2021)
2020 – The venue was closed to re-establish a single auditorium with new seating, renamed Trafalgar Theatre.
On Blueberry Hill (5 March – 2 May 2020)
A Taste of Honey (5 December 2019 – 29 February 2020) starring Jodie Prenger
Nine Night (from the National Theatre)
Misty (from the Bush Theatre)
Killer Joe () starring Orlando Bloom
The Grinning Man (2018)
Apologia, starring Stockard Channing, directed by Jamie Lloyd
Buried Child, starring Ed Harris
The Spoils, written by and starring Jesse Eisenberg (Studio 1)
The Maids, starring Uzo Aduba
The Homecoming (2015) directed by Jamie Lloyd
Oresteia (2015) directed by Robert Icke (Studio 1)
Golem ()
The Ruling Class () starring James McAvoy
East is East () starring Jane Horrocks
Richard III () starring Martin Freeman, directed by Jamie Lloyd (Trafalgar Transformed 2nd season)
Ghosts () starring Lesley Manville
The Pride () starring Hayley Attwell
The Hothouse () starring Simon Russell Beale and John Simm (Trafalgar Transformed)
Macbeth (2013) starring James McAvoy (Studio 1 – Trafalgar Transformed)
Othello, starring Lenny Henry
The Mountaintop
Entertaining Mr Sloane, starring Imelda Staunton and Matthew Horne
Riflemind directed by Philip Seymour Hoffman
A Night in November (starring Warren Mitchell)
Elling (starring John Simm and Adrian Bower)
African Snow
The Dumb Waiter (starring Lee Evans and Jason Isaacs) 50th Anniversary production of the play written by Harold Pinter
The New Statesman: Alan B'stard's Extremely Secret Weapon (starring Rik Mayall)
Bent (starring Alan Cumming)
Gunpowder Season from the RSC
Shoot the Crow (starring James Nesbitt)
Losing Louis (starring Alison Steadman)
Simply Heavenly (transfer from The Young Vic)
Sweeney Todd (transfer from the Watermill Theatre) directed by John Doyle
Othello – Royal Shakespeare Company, starring Antony Sher as Iago
2004 – Trafalgar Studios opened with two auditoria under a single roof, becoming the first theatre of its kind in the heart of London's West End. Trafalgar Studio 1 had 380 seats & studio 2 had 100 seats. Studio 1 opened on 3 June 2004, and Studoi 2 opened October 2005.
Rat Pack Confidential (18 September 2003 – 15 November 2003)
Abigail's Party (to 12 July 2003) transferred from Ambassadors Theatre
Art (October 2001 – 4 January 2003) transferred from Wyndham's Theatre
Three Sisters (to July 3 1999) new version by Samuel Adamson. Oxford Stage Company.
1997 – 1999: The theatre was converted into a television & radio studio
Rampant in Whitehall – Les Patterson has a Stand Up (featuring Barry Humphries) (1996)
Journey's End
A Tribute to the Blues Brothers
Run For Your Wife (? – ended 5 May 1990 – transfer to Aldwych Theatre)
A Touch of Danger (1988) starring William Franklyn
Refurbished in 1985
Wot! No Pyjamas! (12 May 1980 – 24 January 1981) by Simone St. Clair
Ipi Tombi (6 December 1978 – ?) Transfer from Cambridge Theatre
Thoughts of Chairman Alf (January 17 1977 – ?) starring Warren Mitchell as Alf Garnett
?date – Converted into a Museum 'The Theatre of War' by Paul Raymond, without planning permission
1971 Porn magnate Paul Raymond buys the theatre lease
Pyjama Tops (1969 – 1974) Nude show
Whitehall Farces (1944-1967)

More details coming soon. See also Aldwych Farces
Come Spy With Me (June 1966) by Derek Malcolm, directed by Brian Blackburn. Starring Danny La Rue, Barbara Windsor, Gary Miller
Chase Me Comrade (July 1964 – ?) starring Brian Rix
One for the Pot (August 1961 – July 1964) by Ray Cooney and Tony Hilton, starring Brian Rix in 4 parts, later John Slater
Simple Spymen (1958) by John Chapman, starring Brian Rix and Leo Franklyn
Dry Rot (August 31st 1954 -1958) by John Chapman, starring Brian Rix, Basil Lord, Leo Franklyn
Documents

Trafalgar Studios - Arthur Lloyd
[External Website]
From
Arthur Lloyd website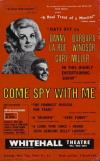 Poster - Come Spy With Me
(June 1960)
[External Website]
From
Victoria & Albert Museum

Trafalgar Studio 1 (photo by Ian Grundy)
(October 2010)
[External Website]