Dates: 1897 – present
Official website: http://www.reallyusefultheatres.co.uk/our-theatres/her-majestys
The current His Majesty's Theatre was designed by C J Phipps and was opened in 1897. The previous theatre was demolished in 1892. In 1896, the actor Herbert Beerbohm Tree laid the foundation of the new theatre.
Prior to 1897, the site had been used for performance continuously since 1705. See the Official History page for more details.
It has been announced in April 2023 that following the death of Her Majesty Queen Elizabeth II, the theatre is to be renamed His Majesty's Theatre.
The home of The Phantom of the Opera since 1986.
Original Stage Machinery
Equipment
1971 (from The Stage Guide)
Electrics: Strand Light Console. Dimmers – 152 (109 x 2kW, 28 x 2.4kW, 15 x 3kW); 7 presets; no groups. Circuits – FOH 32; Flies 84; Stage dips 27. Socket type – 15A BESA. Total capacity available – 1000A on 3 phases. Special effects supply – 200A on 1 phase. Follow spots – 2 sunspots in rear of Balcony.
Links to information about equipment at Her Majestys Theatre over the years
JTM (Strand)
STM (Strand)
Light Console (Strand)
Documents

Her Majestys Theatre - Arthur Lloyd
[External Website]
From
Arthur Lloyd website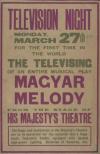 Poster - Television Night
(March 1939)
[External Website]
From
Victoria & Albert Museum
Dimmer banks at Her Majesties Theatre (1954)
Click on thumbnail to enlarge
[631kb JPEG]
From
John Gray Photo Collection

Photo: One of the two main dimmer banks - Her Majesties Theatre (1954)
Click on thumbnail to enlarge
[631kb JPEG]
From
John Gray Photo Collection

[13] Circuit Relay Panel - Her Majestys Theatre (1954)
Click on thumbnail to enlarge
[548kb JPEG]
From
John Gray Photo Collection

[13] John Gray at the Light Console at Her Majesties Theatre (1954)
Click on thumbnail to enlarge
[1.2Mb JPEG]
From
John Gray Photo Collection

[13] The Light Console at Her Majesties Theatre (1954)
Click on thumbnail to enlarge
[578kb JPEG]
From
John Gray Photo Collection

Unusual prepares Her Majestys Theatre for Phantom return
(June 2021)
[External Website]