Dates: February 1901 – present
Official website: http://www.nimaxtheatres.com/apollo-theatre/
Architect: Lewin Sharp (1901)
Original Owner: Henry Lowenfield (1901)
Status: Grade II listed building.
Refurbishment Architect: Ernest Schaufelberg (1932)
The first new London theatre opened following the death of Queen Victoria, so the first theatre of the Edwardian age, and the fourth to overlook Shaftesbury Avenue. The balcony level is considered to be the steepest in London, and is currently hidden above a suspended ceiling which was installed after the collapse of part of the ceiling plasterwork, during a performance of The Curious Incident of the Dog in the Night-Time (more information about the ceiling collapse on that page).
Named after Apollo, the Greek god of music and poetry.
The Apollo's auditorium was split on four levels and had 775 seats. Four hundred and eighty of these are on the stalls/dress circle level.
2013 Ceiling Collapse
Around 40 minutes into the first act of The Curious Incident of the Dog in the Night-Time on December 19th 2013, a large portion of the ceiling collapsed, leading to over 80 injuries, 7 of which were serious, but not life-threatening.
The cause of the incident was found to be weakened hessian wadding which formed a reinforcing part of the plaster ceiling and which formed ties which held the plasterwork to timber supporting beams. Westminster City Council, which governs the safety regulations for many West End theatres, required checks of the ceiling every 3 years, and the Apollo Theatre checks were up-to-date. The ceiling was original to the theatre (dating from 1901). More strict regulations have been brought in, and all West End theatres of similar age and with similar plaster ceilings, have been checked, to hopefully prevent the accident happening again.
Guardian news article
BBC News article
Westminster City Council has published a range of reports on the incident (available on the ABTT website)
The venue reopened in March 2014 with an adaptation of Let The Right One In, with a false ceiling blocking the fourth tier / balcony and original ceiling, to enable investigations and other works to continue.
See also Piccadilly Theatre (Ceiling collapse, 6 November 2019)
Productions & History
(partly from http://www.nimaxtheatres.com/apollo-theatre/ by Mark Fox with thanks to George Hoare Space; additional information from LondonTheatre.co.uk)
Magic Goes Wrong (21 October 2021 – 27 February 2022)
Everybody's Talking About Jamie (6 November 2017, paused in March 2020 due to coronavirus, resumed 20 May 2021, paused on 26 September 2021 (due to release of film version on Amazon Prime Video))
Cat on a Hot Tin Roof (Previews: 13 July 2017; Opening: 24 July 2017; Closed 7 October 2017)
Love In Idleness (May 2017 – July 2017)
Travesties (February 2017 – April 2017)
Peter Pan Goes Wrong (October 21, 2016 – 29 January 2017)
The Go Between (June 2016 to October 2016) starring Michael Crawford
Horrible Histories – The Best of Barmy Britain (July to September 3 2016)
Nell Gwynn (February – April 2016) by Jessica Swale, starring Gemma Arterton, transferred from Shakespeare's Globe
Peter Pan Goes Wrong (?December 2015 to January 31, 2016)
Showstopper! The Improvised Musical () transferred to Lyric Theatre
Dear Lupin (July 30 2015 – September 2015) starring father & son James Fox & Jack Fox
The Audience (April 21 – July 25 2015) starring Kristin Scott Thomas
My Night With Reg (January 17 – April 11 2015)
Urinetown (September 2014 to January 3 2015) Transfer from St James Theatre
Let the Right One In (March 26th 2014 – August 30 2014)
Period of closure due to the ceiling collapse during performance (December 2013 – March 2014)
The Curious Incident of the Dog in the Night-Time (March 2013 – 19 December 2013)
Twelfth Night / Richard III (November 2012 – February 2013) starring Mark Rylance & Stephen Fry
Long Day's Journey Into Night (April 2012 – August 2012) starring David Suchet
The Madness of George III (January – March 2012)
Jerusalem (October 2011 – January 2012) by Jez Butterworth
Blithe Spirit (March – June 2011)
The Country Girl (October 2010 – January 2011)
All My Sons (May 2010 – September 2010)
Jerusalem (January 2010 – April 2010)
Carrie's War (June – September 2009)
Three Days of Rain (February 2009 – May 2009) starring James McAvoy
Rain Man (September 2008 – December 2008) starring Josh Hartnett
Glengarry Glenn Ross (October 2007 – January 2008)
The Last Five Years (August 2007)
The Glass Menagerie (February 2007 – May 2007) starring Jessica Lange
Who's Afraid of Virginia Woolf? (February – May 2006)
Summer and Smoke (2005) starring Rosamund Pike
2005 – The theatre changed ownership – now owned by Nimax Theatres.
A Life in the Theatre (February – April 2005)
The Goat or Who Is Sylvia? (April – August 2004)
The Price (9 September 2003 – 10 Jan 2004) by Arthur Miller
My Brilliant Divorce (from 14 February 2003. Limited Season) Starring Dawn French
Sleuth (Previews from 2 July 2002 – 8 February 2003) By Anthony Shaffer. starring Ian Ogilvy and Jonathan Kerrigan.
The Constant Wife (Previews from 3 April 2002. Closed 29 June 2002) By Somerset Maugham. Starring Sara Crowe, Serena Evans, Lucy Fleming, Steven Pacey, Jenny Seagrove, Linda Thorson & Simon Williams. Directed by Edward Hall.
Star Quality (Previews from October 23, Opens October 29 2001 – 23 March 2002) Starring Penelope Keith, Una Stubbs & Russell Boulter, Directed by Christopher Luscombe.
Gondoliers (Previews from 27 June 2001, closed Sept 29 2001) adapted and directed by John Doyle
The Female Odd Couple (Previews from 17 April 2001 – Closed 23 June 2001) by Neil Simon
Fallen Angels (Previews from 17 October 2000, opened 25 October 2000, closed 13 April 2001) By Noel Coward. Starring Felicity Kendal and Frances de la Tour, directed by Michael Rudman
They Shoot Horses Don't They (7 – 16 September 2000) National Youth Theatre
Personals (Opens 13 June 2000, closed 29 July 2000)
Side Man (Closed 10 June 2000) starring Jason Priestley, Edie Falco, Frank Wood
2000 Purchased by Lord Lloyd-Webber's Really Useful Group and Bridgepoint Capital
Defending the Caveman (1999) booking to 2nd Oct 1999. Starring Mark Little.
Popcorn (1997)
Neville's Island (1994) starring Tony Slattery

Don't Dress For Dinner (26th March 1991 – 24 October 1992) transferred to the Duchess Theatre
Best of Friends (1988) by Hugh Whitemore. One of the last stage appearances of Sir John Gielgud, aged 83
I'm Not Rappaport (1986) starring Paul Scofield & Howard Rollins
Gerald Moon's Corpse (1984) in which Keith Baxter played twins opposite Milo O'Shea
Season's Greetings (1982)
Middle Aged Spread (1st September 1980 – 7 February 1981) with Richard Briers and Paul Eddington. [Transfer from Lyric 17 Oct 1979]
Before the Party (21 April 1980 – ) starring Jane Asher
Beecham (Previews from 22 January 1980, Opened 29 January 1980, closed 5 April 1980) starring Timothy West, Directed by Patrick Garland. Ran for 11 weeks with less than 50% capacity.
Shut Your Eyes and Think of England (15 November 1977 – ?) starring Donald Sinden
1975 – changed ownership – now part of the Stoll Moss Group
The Norman Conquests (1974-1975) starring Ronald Pickup. Written by Alan Ayckbourn
Why Not Stay for Breakfast (1973)
The Mating Game (1972) starring Terry Scott
Home (1969) starring Sir John Gielgud & Ralph Richardson
Forty Years On (1968) starring Sir John Gielgud
Boeing Boeing (20 Feb 1962 – 10 May 1965) by Marc Camoletti, adapted by Beverly Cross starring Patrick Cargill and David Tomlinson. Transferred to the Duchess in May 1965.
Seagulls Over Sorrento (1950 – ?1953)
Treasure Hunt (1949) directed by John Gielgud, starring Sybil Thorndike and Lewis Casson
The Happiest Days of Your Life (1948) starring Margaret Rutherford
Private Lives (1944 – ?) revival, starring John Clements and Kay Hammond
1944 – Prince Littler took control of the theatre
Flare Path (1942)
Gaslight (1939)
Idiot's Delight (1938) starring Raymond Massey
Wild Decembers (1932) starring Diana Wynyard as Charlotte Bronte
There's Always Juliet (1931)
Bed Rock (Jan 29, 1931 – ?)
A Symphony in Two Flats (1929)
The Silver Tassie (1929)
Irish Rose (1927)
Trilby (1922) by George Du Maurier
1920 – Actor George Grossmith and Edward Laurillard became managers
Soldier Boy (1918)
Hobson's Choice (1916)
The Follies (1908 until 1912) by H G Pelissier
Tom Jones (1907) starring Cicely Courtneidge
Veronique (1904)
The Belle of Bohemia (1901) American musical comedy
Equipment
1971 (from The Stage Guide)
Electrics: Strand CD on SR. Dimmers – 120; 2 presets; 3 groups. Circuits – FOH 30; Flies 60; Stage dips 30. Socket type 15A BESA. Total capacity available – 300A on 3 phases. Follow spots – 2 in Upper Circle.
Links to information about equipment at Apollo Theatre, London over the years
CD / System CD (Strand)
Compact (CMS) (Strand)
Documents

Apollo Theatre - Arthur Lloyd
[External Website]
From
Arthur Lloyd website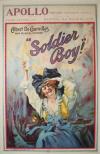 Poster - Soldier Boy
(1918)
[External Website]
From
Victoria & Albert Museum