Dates: May 1962 – 19 September 1963 (568 performances)
Related Equipment:
Documents

Blitz at the Lighting Archive
[External Website]
From
The Lighting Archive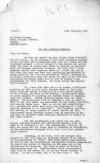 Letter from Fred Bentham about System CD for Adelphi for Blitz
(February 1962)
[472kb PDF]
From
David Bertenshaw Collection
Directed and written by Lionel Bart
Set: Sean Kenny
Lighting: Richard Pilbrow (see video below)
Sound: David Collison
The Strand Pattern 263 profile was designed and built for this production. Lighting for the show was operated on a Strand CD console. Martin Moore was one of the operators.
The Reiche & Vogel Blitzgerät (Flashgun) was imported from Germany for the production by Richard Pilbrow. The electronic flashgun is focussed to produce a convincing lightning bolt on stage. A number of them were used in the show.
The complex scenic choreography (four independently motorised two storey steel-framed trucks) were driven by on-board crew members, co-ordinated by stage managers looking down on the stage from the flys. The radios used to communicate between them all is believed to be the first use of radio communications in British theatre.