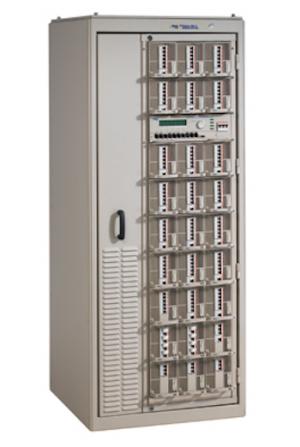 Matrix Dimmer Rack
Sine-wave or SCR modular dimming system
Mk.2 System released in 2006.

ETC's IES Matrix MkII is the result of years of development in entertainment-lighting systems, combined with IES experience in installing low-noise dimmers in leading theatres, concert halls and TV networks. Matrix MkII was created to take advantage of a new generation of technology that allows dimmers of different ratings and styles - such as sine wave - to be mixed in the same installation. The density of the rack supports up to 162 dimmer channels. With space for up to six iSCR or four iSINE dimming channels per module, SineWave modules are available in 3kW, 5kW or 12kW versions, and SCR modules (basic and high spec) are available in 3kW, 5kW and 12kW.
With relay and HMI switch options that are also part of the 'mix-and-match' selection of plug-in, hot-swap dimmer modules, Matrix MkII allows users to tailor their dimming precisely to their power control needs. Matrix MkII is flexible, so no matter what type of load or how many different types of fixtures are used in the same rig, all loads will dim with the same visual curve, thanks to dynamic load sensing which matches dimming curves for high and low wattage loads. Matrix systems encompass the benefits of sine wave dimming, including completely silent lamp filaments and lower running costs. And Matrix MkII offers up to 98% efficiency, so there's little heat and wasted power. Matrix MkII has a web-browser configuration tool for simple and fast configuration changes, and also incorporates ETC's DimSTAT reporting software with dynamic load sensing and curve-correction options and instant diagnosis of dimmer faults.
SineWave or SCR dimming
3kW, 5kW, 12kW rating per channel
Dimmers, relays, or HMI switch modules
19" modularity, mix-and-match modules
Silence at the lamps
Installation Racks - Mark II:
Plug-in, hot-swap dimmer modules
Swing-frame install rack for easy install and maintenance
Customisable with up to 162 x 3kW or 108 x 5kW dimmers per rack
SineWave modules in 4 x 3kW, 4 x 5kW and 1 x 12kW available
SCR Basic or Advanced modules available in 6 x 3kW, 4 x 3kW, 2 x 5kW, 4 x 5kW and 1 x 12kW
Relay non-dim, HMI switch, and RCD per channel options
Mix-and-match module types
Dual processing
Ethernet and DMX control
Architectural control
Simple installation
DimSTATTM reporting software with dynamic load sensing and curve-correction options
Can be fitted to 19" racks
More details on the ETC website
Matrix Installation Racks
Related Venues:
---
Documents

Matrix Mk.2 Application Sheet
(2006)
[259kb PDF]

Matrix Mk.2 Dimming System User Manual
(2006)
[1.03Mb PDF]
---
---
---
873