Dates: 1907 – present
Originally called the Queens Theatre, the venue was renamed the Sondheim Theatre in 2019 when it closed for refurbishment. The renaming is in honour of Stephen Sondheim's 90th birthday on 22nd March 2020. The renaming was announced by Cameron Mackintosh on 5 July 2019, and by 2 August the new signage was in place on the exterior of the theatre. 
The architect was W G R Sprague who designed the theatre as a pair with the Gielgud Theatre on the adjoining corner of Shaftesbury Avenue. 
The front of the building was destroyed by a wartime bomb in 1940, and the theatre was derelict for almost 20 years until it was rebuilt and reopened in 1959. The auditorium remained mostly intact. 
Current owner: Delfont Mackintosh Theatres. 
Official website: http://www.sondheimtheatre.co.uk
Selected Past Productions
Some information from the Queens Theatre website
2019 December – Les Miserables reopened, in a newly staged production.
2019 August 2 – Theatre renamed the Sondheim Theatre in honour of Stephen Sondheim's 90th birthday on 22 March 2020.
2019 July 13 – The final London performance of the original staging of Les Miserables is filmed for future broadcast / distribution. 
2019 Cameron Mackintosh is to refurbish the Queens Theatre, the Gielgud Theatre, the Noel Coward Theatre and the Wyndhams Theatre
2012 1 June marked the 11,000th performance of Les Misérables in London.
2010 On 8 October Les Misérables celebrated the 25th anniversary of its original opening at the Barbican Centre in 1985.
Les Miserables (12 April 2004 to 13 July 2019) transferred from the Palace Theatre
The Tamer Tamed (22 January 2004 – 6 March 2004) RSC production by John Fletcher
The Taming of the Shrew (15 January 2004 – 6 March 2004) RSC production
Cyberjam (23 September 2003 – 3 January 2004)
The Rocky Horror Show (23 June 2003 – 5 July 2003) by Richard O'Brien, starring Jonathan Wilkes and John Stalker
Contact (23 October 2002 – 10 May 2003) by Susan Stroman and John Weildman
Umoja: The Spirit of Togetherness (18 June 2002 – 31 August 2002) by Todd Twala, Thenbi Nyandeni and Ian von Memerty
Mysteries (26 February 2002 – 18 May 2002) adaptation by Speir Opera
The Hobbit (28 November 2001 – 9 February 2002) by Glyn Robbins from J. R. R. Tolkien's book
Dreaming (previews June 10 1999, opened June 15, limited season closed July 17 1999) written & directed by Peter Barnes
Lady in the Van (1998) starring Maggie Smith. Written by Alan Bennett.
Elton John's Glasses (1998) starring Brian Conley. Directed by Terry Johnson. 
Bugsy Malone (November 15 1997 – 10 January 1998) National Youth Music Theatre production, starring Sheridan Smith and Jamie Bell
Hurlyburly (?) starring Rupert Graves & Jenny Seagrove, directed by Wilson Milam.
Laughter on the 23rd Floor ( – 1 March 1997) starring Gene Wilder. Written by Neil Simon.
Passion (1996) 232 performances. Starring Maria Friedman. 
 
Matador (Previews from 2 April 1991, Opened 18 April 1991) starring Stefanie Powers, John Barrowman & Nicky Henson. New Musical. Directed by Elijah Moshinsky.
Three Sisters (Previews 5 December 1990, Opened 11 December 1990, Closed 2 March 1991) starring sisters Vanessa and Lynn Redgrave & their niece Gemma Redgrave, and Stuart Wilson. Directed by Robert Sturua
Stand Up America! (22 October 1990 – 1 December 1990) 6 week festival season of 20 of the best American stand-up comics. 3 different comics each week.
Shadowlands (Previews 18 October 1989, Opened 23 October 1989, Closed 8 September 1990) starring Nigel Hawthorne & Jane Lapotaire. From July 30 1990, Jane Alexander played Joy Davidman prior to Broadway transfer.
Single Spies (previews from 23 February 1989, Opened 28 February 1989, Closed 26 August 1989) starring Alan Bennett, Simon Callow, Prunella Scales. By Alan Bennett.
Beyond Reasonable Doubt (Previews from 17 September 1987, Opened 22 September 1987, Closed 18 February 1989 prior to national tour) originally starring Frank Finlay and Wendy Craig (later Tony Britten and Gwen Watford). Written by Jeffrey Archer.
The Resistable Rise of Arturo Ui (opened 6 April 1987, closed 30 May 1987) starring Griff Rhys Jones, Brian Glover, Ken Bones, Linal Haft, Hugh Paddick. Directed by David Gilmore. By Bertolt Brecht, translaterd by George Tabori.
Wonderful Town (Previews from July 21 1986, Opened 7 August 1986 – 28 March 1987) by Leonard Bernstein, starring Maureen Lipman. Production won both Olivier and Variety Club Awards.
Interpreters (Previews from 8 November 1985, Opens 19 November 1985, Closed 28 June 1986) starring Maggie Smith and Edward Fox. Written by Ronald Harwood. Directed by Peter Yates.
The Seagull (Previews from 25 July 1985, Opened 2 August 1985, Closed 2 November 1985) starring Vanessa Redgrave & Jonathan Pryce. Directed by Charles Sturridge. Limited Season.
The Caine Mutiny Court-Martial (Previews from 26 February 1985, Opened 28 February 1985, Closed June 29 1985) starring Charlton Heston and Ben Cross
40 Years On (? to 15 Jan 1985) starring Paul Eddington. Written by Alan Bennett. Directed by Patrick Garland.
Another Country (1982), Julian Mitchell's story about Guy Burgess's schooldays, starred Rupert Everett and launched Kenneth Branagh's career. Everett was subsequently replaced by Daniel Day Lewis and Colin Firth.
Quartermaine's Terms (30 July 1981 – ?) by Simon Gray
Moving (21 January 1981 – 18 July 1981) by Stanley Price
The Dresser (30 April 1980 – 17 January 1981) by Ronald Harwood
Otherwise Engaged (1975) starring Michael Gambon. Directed by Simon Gray. Written by Harold Pinter
Saturday, Sunday, Monday (Opening 8 October 1974 – ) directed by Franco Zeffirelli, starring Joan Plowright & Frank Finlay. By Eduardo de Filippo.
Hair (Preview 24 June 1974, opened 25 June 1974, closed 28 September 1974 after over 2000 performances, originally at Shaftesbury Theatre) limited run after run at Shaftesbury Theatre was cut short due to auditorium ceiling collapse
The Wolf (Dec 1973?) starring Edward Woodward & Judi Dench
The Card (Previews from July 12 1973, opened July 24 1973) Musical
Private Lives (1972) Starring Maggie Smith and Robert Stephens.
Marlene Dietrich (29 May 1972 – 10 June 1972) She had first sung in cabaret at the Queen's in 1964, and her performance can be heard on a live recording.

1966 Noël Coward made his final West End appearance in A Suite in Three Keys. In August and September Laurence Olivier's National Theatre presented their first West End season, including famous productions of The Royal Hunt of the Sun and Othello.
1961 Anthony Newley and Leslie Bricusse's thought-provoking musical Stop the World I Want to Get Off, about the value of personal versus career choices, ran for 478 performances before transferring to Broadway.
1959 The theatre reopened on 8 July with John Gielgud's Shakespearean recital Ages of Man. Architects Westwood Sons & Partners reconstructed it at a cost of £250,000, with Sir Hugh Casson acting as consultant on the décor.
1940 The Queen's was the first West End theatre to be put out of action by enemy bombing on 24 September, bringing to a premature close the highly successful run of Rebecca.
Rebecca ( – 24 September 1940 due to enemy bombing) starring Owen Nares, Celia Johnson & Margaret Rutherford
Dear Octopus (1938) by Dodie Smith
1937 The Gielgud season of Richard II, The School for Scandal, Three Sisters and The Merchant of Venice brought glittering casts and outstanding performances to the theatre. Those who appeared included Leon Quartermaine, Michael Redgrave, Glen Byam Shaw, Anthony Quayle, Alec Guinness, Peggy Ashcroft and George Devine.
Short Story (1935)  Robert Morley's first play combined a host of talent in Marie Tempest, Sybil Thorndike, Margaret Rutherford and Rex Harrison.
Moonlight in Silver (1934), an 'ultra-modern problem play' by Clemence Dane, starred Gertrude Lawrence and Douglas Fairbanks Jnr. This glamorous couple attracted much media attention especially as they were having an affair both on and off stage.
Hamlet (1930) The Old Vic production of Hamlet transferred to Queen's and John Gielgud gave his first Shaftesbury Avenue performances of the role he made almost his own with Donald Wolfit as a strong Claudius.
1920 Elsie Janis altered the theatre so that the stalls were 'surrounded by a parterre and backed by a luxurious lounge'.
Tango Teas (1913) The stalls seats were replaced with tables and chairs where, for the sum of 2/6, people took tea while watching professional tango dancers and dress parades on stage.
The Sugar Bowl (8 October 1907 opening production) a comedy by Madeleine Lucette Ryley. It ran for 36 performances.
Equipment
1971 (from The Stage Guide)
Electrics: Strand CD board in rear of stalls. Dimmers – 120 (40 x 1kW, 80 x 2kW); groups – 14 memory pistons. Circuits – FOH 20; Flies 65; Stage dips (and booms) 35. Socket type – 15A BESA. Total capacity available – 300A on 3 phases. Special effects supply – 60A on 1 phase. 
Exhibits from this venue in the Backstage Heritage Collection
Gemini (1984)
Links to information about equipment at Sondheim Theatre, London over the years
CD / System CD (Strand)
Gemini (Strand)
Documents

Queens Theatre - Arthur Lloyd
[External Website]
From
Arthur Lloyd website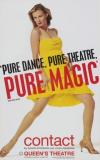 Poster - Contact
 (2002)
[External Website]
From
Victoria & Albert Museum

Les Mis Lighting Plot
 (January 2020)
[3.05Mb PDF]
From
Lighting & Sound International
Location

View in Google Maps