Dates: 1906 – present
986 seats on three levels 
Opened 27 December 1906 as the Hicks Theatre
Renamed The Globe in 1909
Renamed the Gielgud Theatre in 1994, as a tribute to Sir John Gielgud and to distinguish it from the newly built Shakespeare's Globe on the South Bank.

Selected Past Productions
Stephen Sondheim's Old Friends (16 September 2023 – 6 January 2024)
The Crucible (7 June to 2 September 2023)  National Theatre production, directed by Lyndsey Turner, design by Es Devlin
To Kill A Mockingbird (10 March 2022 – 20 May 2023) a new play by Aaron Sorkin. Starring Rafe Spall, directed by Bartlett Sher. 
2:22 A Ghost Story (4 December 2021 – 4 February 2022)
The Mirror and the Light (23 September 2021 to 28 November 2021)
Upstart Crow (Previews from 7 February 2020, opening night 18 February 2020, closed in March 2020) performance run cut short by Coronavirus pandemic (originally scheduled to close 25 April 2020) starring David Mitchell
Girl from the North Country (10th December 2019 – 1st February 2020)
Les Miserables – The Staged Concert (10th August 2019 – 30th November 2019)
Sweat (7th June – 20th July 2019)
Company (26 September 2018 – 30 March 2019) starring Rosalie Craig and Patti Lupone, directed by Marianne Elliott
Imperium (14 June – 8 September 2018)
The Ferryman (20 June 2017 – 19 May 2018) directed by Sam Mendes
The Curious Incident of the Dog in the Night-Time (2014 – June 3 2017) [the production moved here after the ceiling collapse at the Apollo Theatre, next door]
Blithe Spirit (1 March 2014 – 7 June 2014) [starring Angela Lansbury]
Strangers on a Train (Previews from 2 November 2013 – 22 February 2014)
Private Lives (22 June 2013 – 21 September 2013)
The Audience (Previews from 15 February 2013, opened 5 March 2013 – 15 June 2013)
Chariots of Fire (2012)
The Ladykillers (28 November 2011 – ?) adapted by Graham Linehan
Lend Me A Tenor (2011)
Yes Prime Minister (20 September to 19 November 2011)
The Umbrellas of Cherbourg (2011) Kneehigh Theatre
Hair (2010)
Enjoy (2009)
Avenue Q (2009)
Bill Bailey: Tinselworm (2008)
Six Characters In Search Of An Author (2008)
God of Carnage (2008)
Gilbert & Sullivan season by Carl Rosa Opera (2008)
Nicholas Nickleby (2007)
Macbeth (2007) starring Patrick Stewart
Equus (2007) starring Daniel Radcliffe and Richard Griffiths
Frost/Nixon (2006)
2006 – Delfont Mackintosh Theatres took over operational control of the Gielgud from Really Useful Theatres.
RSC Season – The Crucible & The Canterbury Tales (2005)
And Then There Were None (2005) directed by Steven Pimlott, rewritten by Kevin Elyot, from Agatha Christie.
Some Girls (2005)
Don Carlos (2005)
One Flew Over the Cuckoos Nest (2004) From the Edinburgh Fringe
All's Well That Ends Well (2004) starring Judi Dench
Tell Me On A Sunday (2003)
The Graduate (2000) starring Kathleen Turner, then Jerry Hall, then Linda Gray.
Boyband (opened June 8 1999 – ?) by Peter Quilter. Directed by Peter Rowe. 
Chapter Two (1996) written by Neil Simon, starring Tom Conti and Sharon Gless
The theatre is renamed The Gielgud as a special tribute to Sir John Gielgud and to distinguish it from the newly opened Shakespeare's Globe on the South Bank. The opening production under its new name was
Hamlet (1994) with Stephen Dillane, directed by Peter Hall.
Lettice and Lovage (1987) by Peter Shaffer, starring Maggie Smith and Margaret Tyzack (who both won Tony Awards when the production transferred to Broadway)
Daisy Pulls It Off (1983) over 1000 performances
The Mitford Girls (8 October 1981 – 9 January 1982)
St Mark's Gospel (12 July – 8 August 1981) solo performance by Alec McCowen
Rowan Atkinson in Revue (19 Feb – 16 May 1981) by Richard Curtis & Rowan Atkinson
Hinge and Bracket at the Globe (22 October 1980 – 31 January 1981)
Born in the Gardens (1980) starring Beryl Reid
Ten Times Table (1978)
Donkey's Years (1976) by Michael Frayn
The Chairman (1975)
The Norman Conquests (1974 1 August) starring Tom Courtenay, Michael Gambon, Penelope Keith, Felicity Kendal.
My Fat Friend (1972)
There's a Girl in my Soup (15 June 1966 – 1969) 1064 performances – then transferred to the Comedy Theatre
A Man For All Seasons (1960) by Robert Bolt. Starring Paul Scofield.
Nude with Violin (1956) written by Noel Coward and directed by him and John Gielgud (transferred to Broadway & Australia).
Charley's Aunt (1955)
An Evening with Beatrice Lille (24 November 1954) started as a 14 day experiment and became a £265,000 sell-out and ran for 195 performances.
The Prisoner (14 April 1954) starring Alec Guinness. Produced by Peter Glenville.
The Lady's Not For Burning (1949) starring Richard Burton and Claire Bloom
While the Sun Shines (1943) 1154 performances, boosting morale during the wartime years.
The Importance of Being Earnest (1939) starring Edith Evans as Lady Bracknell, directed by John Gielgud
Candida (1937) The first H M Tennant production, at the theatre that subsequently became the companys headquarters until 1991.
Call It A Day (1935) play by Dodie Smith – 509 performances
Biography (1934) starring Ina Claire, Joan Wyndham and Laurence Olivier
Holding Out The Apple (1928) First appearance by John Gielgud at the theatre. Fourteen others followed.
The Grand Duchess (1925) starring Margaret Bannerman
Our Betters (1923) Satirical comedy by Somerset Maugham. 548 performances
Belinda (1922) by AA Milne.
My Pym Passes By  (1922) by AA Milne.
The Truth about Blayds (1921) by AA Milne.
The Clock Goes Round (1913)
The American impresario Charles Frohman became sole manager of the theatre and changed its name to The Globe it reopened with:
His Borrowed Plumes (1909) written by Lady Randolph Churchill (Winston's mother)
Brewster's Millions (1907) starred Gerald du Maurier
The Beauty of Bath (1906 27 December) A musical play by Seymour Hicks (after whom the theatre was named) and Cosmo Hamilton
Equipment
1971 (from The Stage Guide)
Electrics: Board Strand IDM in stalls SL. Dimmers – 120; 300 preset memories; no groups. Circuits – FOH 24. Socket type – 15A BESA. Total capacity available 400A on 3 phases. Special effects supply – 100A on 1 phase. Follow spots – 2 sunspots in Upper Circle. Footlights cannot be covered. 
Links to information about equipment at Gielgud Theatre, London over the years
Compact (CMS) (Strand)
IDM (Strand)
Documents

Gielgud Theatre - Arthur Lloyd
[External Website]
From
Arthur Lloyd website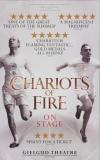 Poster - Chariots of Fire
 (2012)
[External Website]
From
Victoria & Albert Museum
Mentions of Gielgud Theatre, London in indexed journals
Location

View in Google Maps