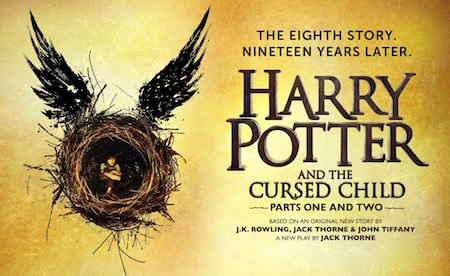 London, UK:
Opened at the Palace Theatre, 30 July 2016 (previews from 7 June 2016)
The original booking period was to May 27 2017.
The run was suspended in March 2020 due to the Coronavirus pandemic, and reopened on Friday 15th October 2021.
Now booking to May 2023
Broadway, NYC, USA:
The Lyric Theatre official opening April 22, 2018. Previews from March 16 2018.
Melbourne, Australia:
Opened at the Princess Theatre in Melbourne on January 16 2019
San Francisco, CA, USA
The Curran, from Autumn 2019
Hamburg, Germany
Mehr! Theater am Großmarkt, from Spring 2020
Creative Team
Director: John Tiffany
Playwright: Jack Thorne
Based on an original story by: J.K.Rowling, Jack Thorne, John Tiffany
Movement Director: Steven Hoggett
Set Designer: Christine Jones
Costume Design: Katrina Lindsay
Composer & Arranger: Imogen Heap
Lighting Designer: Neil Austin [interview]
Sound Designer: Gareth Fry
Illusions & Magic: Jamie Harrison
Music Supervisor & Arranger: Martin Lowe
Special Effects: Jeremy Chernick
Casting Director: Julia Horan CDG
Original Production Manager: Gary Besstone
Original Production Stage Manager: Sam Hunter
Associate Director: Des Kennedy
Associate Movement Director: Neil Bettles
Associate Set Designer: Brett J. Banakis
Associate Sound Designer: Pete Malkin
Original London Cast, 2016
Lighting Design – Neil Austin
Some beautifully subtle lighting effects, working with haze and projection to transform the blank canvas of the set into a huge variety of locations.
Particularly impressive are the battens used to backlight the train chase sequence – it looks like they're pixel mapped to provide a sense of movement (along with wind effects) whilst still ensuring the relevant cast members are lit.
However, the most impressive aspect of the lighting design is what isn't lit. Many of the illusions in the show require very subtle lighting effects to ensure that the audience is looking at the right thing, and that they don't notice the secrets which enable the illusions to operate.
Lighting Cues: 1054 (from World Theatre Day social media post)
Keep the Secrets – Magic & Illusion
There are a number of wonderful recreations of classic stage illusions during the show (particularly during Part 1), all of which are carried out with a great deal of skill and using traditional (and therefore very successful) theatrical techniques.
In particular the number of sudden appearances of certain characters in different parts of the stage is dizzyingly impressive. While similar ideas have been used in shows such as Our House and Groundhog Day, the sheer number of illusions and the pace at which they're carried out is a joy to behold.
I won't go into any more detail (#keepthesecrets) but any fans of magic and illusion should make every effort to see the show.
Set Design
Sound Design
Very effective design which immerses the audience in the world of the show from the outset, with a train station atmospheric track playing as the audience enters. The complex and varied score by Imogen Heap is combined with hugely effective (and sometimes genuinely chilling) effects, particularly in Dementor sequences. Voices are clearly audible throughout, and the illusions are supported by suitable audio punctuations, further enhancing them.
There are 660 Sound Cues in the production
Costumes
Each production features 560 costume items
Movement Direction
Reviews
External
Harry Potter make-over planning permission (The Stage, 27 May 2016)
Rehearsal Room visit with J.K.Rowling
Behind the Scenes at the Palace Theatre with Sonia Friedman and Colin Callender
(this video was produced for Universal Studios Orlando, in January 2016, for The Celebration of Harry Potter)
Keywords: harry potter cursed child, sound designer harry potter