Broadway – Shubert Theatre (July 25, 1975 – April 28, 1990) [6,137 performances]
The first time a computerised light board was used on Broadway.
The original lighting designer was the legendary Tharon Musser.
The NY Public Library Theatrical Lighting Database website has all of the paperwork from her design, along with an interview about her work on the show (see link below)

Producer: Joseph Papp
Director: Michael Bennett
Choreography: Bob Avian, Michael Bennett
Lighting Design: Tharon Musser
Production Sound Engineer (1976 – 1981) was Steve Terry, who also was involved in the installation & maintenance of the LS8 lighting control system
The Light Console at Drury Lane was replaced with a Strand MMS control desk to be able to carry out the complex design
Related Equipment:
Documents

A Chorus Line - Theatrical Lighting Database
[External Website]

MMS at Theatre Royal Drury Lane 
Click on thumbnail to enlarge
[866kb  JPEG]
From
Alan Luxford Collection

A Chorus Line Revisited - Linda Essig (Theatre Design & Technology)
 (December 1998)
[External Website]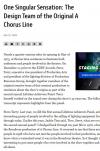 One Singular Sensation: The Design Team of the Original A Chorus Line
 (March 1999)
[External Website]
A Chorus Line
 (2006)
Paperwork & Information from Natasha Katz
[External Website]
From
The Lighting Archive

LSI: A Chorus Line
 (April 2013)
[External Website]
From
Lighting & Sound International
Broadway (October 2006)
Director: Bob Avian
Natasha Katz took over lighting design duties as Tharon Musser was suffering with Alzheimers disease. Natasha used the original designs as a reference.
London Revival (February 19, 2013 to June 29, 2013)
London Palladium
Directed by Bob Avian