Tempus (1980)
Strand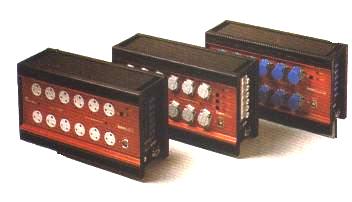 Portable dimmer packs

Tempus 2-preset desks and Tempus portable dimmer packs combine to form the most comprehensive range of portable plug-together lighting controls for up to 36 or more control channels.
Tempus desks can also be interfaced with Permus dimmer racks for permanent installations, similarly Tempus dimmer packs are compatible with AMC or other Strand current and recent control systems.
Tempus portable dimmer packs are built to professional standards of safety, reliability and convenience. Each contain either 6 x 10A or 3 x 20A/25A top quality Thyristor dimmers, their associated filters, and power distribution from supply terminals to socket outlets for the connection of the 220/240V tungsten lamp loads.
Internally Tempus 10A dimmers are in a twin module format with filtering to professional theatre standards. 20/25A dimmers are single modules and have even more superior filtering to broadcast audio standards. The temperature stable trigger cards, incorporating automatic bottom set for reliability and safety, are now manufactured with hard-firing for each pair of tungsten surge-rated Thyristors ensuring stable operation with loads as low as 40 watt.
Tempus 10A/C is fitted with twin Schuko outlets for each dimmer channel, Neozed fuses and power distribution for a 3-phase and neutral supply including an earth/ground conductor.
The Tempus 10A/15 dimmer pack is fitted with twin 15A 3-pin shuttered socket outlets to each of the six 10A Thyristors dimmer channels and shrouded-contact fuses providing close-excess current protection. Power distribution is for a single phase and neutral supply with an earth continuity conductor. Tempus 10A/5 pack is similar, but fitted with twin 5A 3-pin shuttered sockets, individually fused, limiting the maximum single tungsten lamp load to 1000W.
Control cable wiring:
Using 8-pin Bleecon (locking DIN connector)
Pin 1 = Channel 1
Pin 2 = Channel 2
Pin 3 = Channel 3
Pin 4 = Channel 4
Pin 5 = Channel 5
Pin 6 = Channel 6
Pin 7 = Power
Pin 8 = Ground
See also:
---
Documents

Comparison of Tempus and Act 6 Dimmer Racks
[77kb PDF]
From
Strand Archive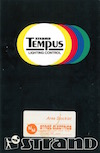 Tempus Brochure
(1980)
[3.5Mb PDF]
From
Roger Fox Collection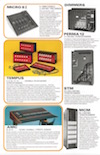 1980 Stage Lighting - page 2
(February 1980)
From
Roger Fox Collection

1980 October Price List
(October 1980)
From
Jim Laws Collection

Tempus Maintenance Handbook (£5)

(1981)
Dimmers and control desks
[13.6Mb PDF]
From
Strand Archive

Tempus Packaged Lighting Controls
(November 1981)
[480kb PDF]
From
Mervyn Gould Collection

Preset Lighting Controls and Dimmers brochure
(1982)
[3.6Mb PDF]
From
Strand Archive
Tempus Packaged Lighting Control
(1986)
[3.6Mb PDF]
From
Strand Archive

Strandbook - Portable Dimmer Racks
(1989)
[External Website]

24 Channel Demultiplexer manual
(October 1990)
[1.9Mb PDF]
From
Jim Laws Collection
---
---
---
2151