Patt.35 (1928 - 1963)
Strand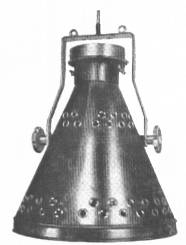 Patt.35
Arena Flood 1000 Watt
This lantern gives a wide angle vertical beam, free from "hot spot", suitable for illuminating large areas, such as dance floors and circus arenas.
105° spread
1000 Watt (E40 GLS lamp)
Introduced around 1928, withdrawn in 1963.
The life of the Patt.35 was extended by Mecca dancehalls, which used them extensively.
---
Documents

1936 Theatrical Lighting Catalogue
(May 1936)
From
Strand Archive

1949 Hire Price List - Page 1
(May 1949)
From
Strand Archive

1950 Price List - Page 1
(February 1950)
From
Strand Archive

1951 Price List page 1
(June 1951)
From
Bob Anderson Collection

1953 Theatrical Lighting - Floods
(February 1952)
From
Bob Anderson Collection

1957 Theatrical Lighting
(1957)
From
Strand Archive

1958 Price List - page 8
(October 1958)
From
Strand Archive
---
---
---
1021