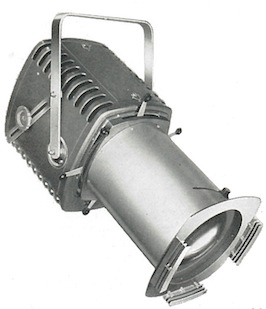 Patt.253
 1500/2000 Watt Profile
This spotlight, with a 24 degree beam spread, projects a high intensity evenly distributed beam with clear cut edges. 
Four built-in by externally operated beam-shaping shutters are provided and also an 18-leaf iris diaphragm for circular beams. The gate assembly also includes horizontal runners for pattern projection by purpose-made metal masks.
This spotlight is recommended for applications where a dominant and decisive beam is required and for precise control of beam shape and spread in large theatres and opera houses.
---
Documents

Pattern 253 Datasheet
[1.5Mb PDF]
From
Strand Archive

1963/64 Lighting for Entertainment page 10
 (April 1963)
From
Strand Archive

1963/64 Lighting for Entertainment page 8
 (April 1963)
From
Strand Archive

1969 Catalogue - Spotlight Accessories
 (August 1968)
From
Strand Archive

1969 Catalogue - Page 6
 (1969)
From
Strand Archive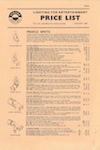 1969 Price List - Page 1
 (January 1969)
From
Strand Archive

1969 Catalogue - Patt 253 Datasheet page 1
 (March 1969)
From
Strand Archive

1969 Catalogue - Patt 253 Datasheet page 2
 (March 1969)
From
Strand Archive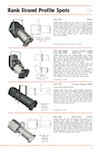 1971 Stage Lighting (p.5)
 (October 1971)
From
Strand Archive

1974 Spring Hire Price List - Page 8
 (April 1974)
From
Roger Fox Collection
---
---
---
1102