Junior 8 (1963)
Strand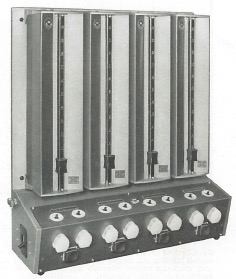 Junior 8
8 channels and 4 dimmers



Introduced in 1963 as a more compact version of the 1950 model Junior HA 8 Switchboard.

The Junior 8 has eight channels each of 1kW maximum and four cordless dimmers as an integral part, of a new variable load design.
The single switch to each control channel (silent AC flush type) connects each channel to be "full on", "on dimmer" or "off" so that dimmers need not be wasted, yet all eight channels can be faded in or out simultaneously from the four dimmers.
All eight channels terminated in 5-amp 3-pin B.S. socket outlets complete with plug tops (white for labelling) which allow light circuits to be "patched" in any order and permit circuit substitution at the control, i.e. more than eight circuits can be used from a single Junior 8. Channels can be grouped via, or independent of, the silent master blackout switch which has ample capacity to control three Junior 8 units.
Slave units can be added at any time to make up sixteen or twenty-four channels. Each slave unit is complete with alternative number labels, linking terminals and connector bushes.
Junior 8 controls can be used without modification either as permanent fixtures or as portable boards. They are light in weight and readily transportable without taking apart.
Ref 616 Standard Junior 8 model (Domestic type cartridge fuses to BS1362)
Ref 617 Slave unit to make up 16 or 24 channels
Ref 614 Master 8: This unit is similar to the Junior 8 except that it is 8 inches taller to allow the provision of larger wattage slider dimmers. The unit provides blackout switch and two master dimmers intended to feed two Ref 617 Junior 8's and in addition two 1000/2000 watt dimmers with four normal Junior 5-amp channels. All three units would be mounted in line with the Ref 614 on the left.
Ref. 619 Master 3 - Three 400 watt max. short-rated master dimmers with fuse and master switch, for series coneection to three Slave 8 units.
Ref 615 Senior 8: eight 5-amp channels and four 1000/2000 watt dimmers.
Ref 618 Spare 5-amp 3-pin white plugs for further circuits.
Related Venues:
See also:
---
Documents

1963 Lighting for Entertainment page 14
(April 1963)
From
Strand Archive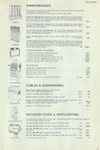 Hire Charges - Strand Electric
(February 1968)
From
Frederick Brown Collection

1969 Price List - Control - Page 7
(January 1969)
From
Strand Archive

1974 Spring Hire Price List - Page 10
(April 1974)
From
Roger Fox Collection

1974 Spring Price List - Page 5
(April 1974)
From
Roger Fox Collection

Classic Gear: Junior 8
(March 2023)
[External Website]
From
Lighting & Sound International

LSI: Letter - Strand Junior Article Stirs Memories
(April 2023)
[External Website]
From
Lighting & Sound International
---
---
---
---
3395