C-AE - System C-AE (1964)
Strand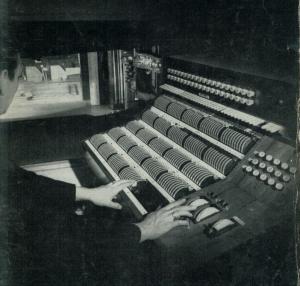 System C/AE at the London Palladium (1966) from TABS
AE stands for All-Electric.
From Brian Legge:
120-240 channels 2-preset, 2 groups/preset and 20 electromechanical memory groups of grouping selection. Luminous fader levers, at 5/8-inch centres, with the scale also selection switch for grouping and also white and/or red, or off grouping indication. Electro-mechanical logic in remote data racks.Used with multiples of 30 x 5kW max. channel CRD Thyristor dimmer racks. 2-slope wing(s) and centre desk. First 1963, last 1965, replaced by MGP.
10+ off, including 4-preset Royal Opera House

From Fred Bentham's Sixty Years Of Light Work:
"...all-electric thyristor dimmer banks were operated via a relay and contactor array which automatically parked channels brought-in. Compton group-memory was retained and in consequence the number of levers as presets was much less than otherwise would have been needed."

Also installed at:
Associated Rediffusion Wembley 5 (large twin studio with soundproof barrier walls) - one of the twin studios had a System CD (Servos) which was replaced by a C/AE All Electric.
BBC White City (two installations)
Royal Opera House Covent Garden - Summer of 1964 - 240-way C/AE, replacing 1934 vintage Mansell remote control. Four presets. Fitted into new control room at the back of the three-row deep Grand Tier (a converted ventilation shaft).
(NB: One of the preset banks is preserved at the Gaiety Theatre, Isle of Man)
London Palladium - 1966. Replacing 1949 Light Console. Two presets, each with 40 Compton group-memories, including a row of stopkeys doing remote colour filter changing, with their own group action.
Related Venues:
See also:
---
Documents

Fader Unit for System C/AE
Click on thumbnail to enlarge
[464kb JPEG]
From
Frederick Brown Collection

System C-AE Covent Garden Instruction Manual
[8.45Mb PDF]
From
Bob Anderson Collection

System CRD / C/AE Description
(1963)
[6.01Mb PDF]
From
David Bertenshaw Collection

Covent Garden Report by Fred Bentham
(1964)
[2.22Mb PDF]
From
David Bertenshaw Collection

C/AE4 Technical Manual - Covent Garden
(July 1964)
[7.32Mb PDF]
From
David Bertenshaw Collection
---
System C/AE FOH Control (1964)
From
Gaiety Theatre Collection
---
---
---
837