Act 3 (1987 - 1994)
Strand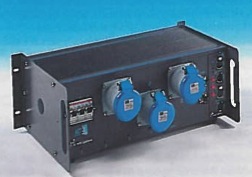 3 channel dimmer rack (3 x 20A dimmer)
The three 20 dimmers are housed in a rugged case and have individual circuit breaker protection.
Connections to the load are made through CEE17 32A socket outlets. Fader control may be by local or remote operation. Available in analogue or multiplex versions for compatibility with Strand desks.
See also:
---
Documents

Act 3 Wiring Diagram
(July 1987)
[727kb JPEG]
From
Strand Archive

Circuit Diagram - Act 3
(July 1987)
[947kb JPEG]
From
Strand Archive

The Strandbook - page 10
(1990)
From
Jim Laws Collection

24 Channel Demultiplexer manual
(October 1990)
[1.9Mb PDF]
From
Jim Laws Collection

1992 Insight Brochure - Page 2
(May 1992)
From
Strand Archive
---
---
---
911