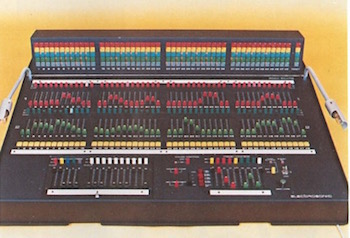 Rockboard 48 channel with touch matrix, from Cue issue 1, 1979
Group selection, pin matrix programming, touch button chaser options.
24 / 36 / 48 / 60 channel options.

The early evolution of the Rockboard (and associated dimmer rack) is covered on this great website about lighting for The Who (some strong language)

From 'Electrosonic: 50 Years on the Audio-Visual Front Line' page 90:
"Jim Moody (author of 'Concert Lighting') contributed greatly to the specification of what became a famous Electrosonic 'standard product'. This was ROCKBOARD, a console whose name says it all. It was basically a two preset, three groups per preset system with flash buttons on every channel, and a hidden pin matrix for ten more group masters, and for selecting channels to the 'chase' feature.
One optional feature was a massive array of buttons constituting a 'touch matrix'. This allowed up to five groups to be set up very fast simply by touching a channel button. This facility needed an array of 300 buttons in the case of a 60 channel board!"
---
Documents

Stage Lighting Brochure
[3.2Mb PDF]
From
Jim Laws Collection

LSI Classic Gear - Rockboard
(September 2018)
[External Website]
From
Lighting & Sound International
---
---
---
---
547