Administration
---
10 out of 12
(USA) A contractual term for a long all-day actor (or crew) call. A typical contract will have at least one of these days, when the actors may be kept at work for 10 hours out of a maximum of 12. During the 12 hour period covered (e.g. 9am to 9pm) there will be either two 1 hour breaks or one two hour break for food, and a total of 10 hours of work. Whilst the work day is long, the intensity allows a great deal of progress to be made. American Actors's Equity only allows a period of 10 out of 12 rehearsal during the 7 days before a performance opens.

ABTT
The Association of British Theatre Technicians, which was formed in 1961 as a charity, to provide a forum for discussion among theatre technicians, architects and managers of all disciplines, and disseminate information of a technical nature, to all its members.
ABTT Website
AETTI
Arts & Entertainment Technical Training Initiative (UK).

ANGEL
One who privately finances a production, usually often with several other backers; their identity is traditionally kept private. May be an individual or a company.
See also PRODUCER.

ASCAP
The American Society of Composers, Authors and Publishers is a not-for-profit performance rights organisation that protects its members' musical copyrights by monitoring public performances of their music, whether via a broadcast or live performance, and compensating them accordingly.
ASCAP website
BACKING
1) Scenic piece which goes behind an opening in the set (window etc.) to hide the technical areas beyond. Also known as a Backing Flat
2) The money invested in a commercial production (by a Backer).

BECTU
Broadcasting, Entertainment, Cinematograph and Theatre Union. The UK entertainment technicians union. (US equivalent is IATSE)
BECTU website
BOX OFFICE MANAGER
Member of the theatre staff responsible for the operation of the Box Office, including customer service standards, ticket sales in person, by phone or online, and the correct recording of ticket sales, repayments to theatre companies etc.

CHAPERONE
Adult who takes responsibility for a group of young people while they're away from their parents. A legal requirement when working with children (and a relief for the stage management team!)

CLOSING NIGHT
The final performance of a show in front of a paying audience.


COMP
Short for Complimentary ticket. Free of charge ticket issued to company members or special guests. Each venue has their own policy about numbers of comps that cast / crew may be entitled to. There are often House Comps, which are good seats not sold to the public until others are sold out, which are used for VIP guests.
In the past it had to be initialled by the General/House/Company Manager to ensure its authority, and a record kept by the Box Office Manager.

CONSTRUCTION (DESIGN AND MANAGEMENT) REGULATIONS (CDM)
UK Regulations introduced in 2015 covering any construction project. Many live event construction projects (e.g. building set, raised stages etc) are covered by the regulations.
UK Health and Safety Executive website
CONTINENTAL SEATING
Auditorium seating layout where there is no central aisle, but wider spacing between rows to allow people to pass those that are already seated.

CONTRA
In accounting, a CONTRA is a financial entry indicating a credit instead of a debt, on a debtor's account. It indicates when a debtor (e.g. a production company) has built up a credit, which a creditor (e.g. a hire company) needs to supply goods against.
Deduction made by the Bricks & Mortar Management from its final payment to the Visiting Management, for expenditure incurred by the theatre on behalf of the Visiting/Touring Management. The amount charged varied according to the management's contract, but could include electricity used, staff over and above the normal crew, and even the 'first night thank you' reception

CURTAIN TIME
The advertised start time of the performance. This may be delayed by the late arrival of a large party, but regularly starting late because of box office queues should be avoided.

DARK
A venue that has been closed to the public. Some theatres go dark temporarily during production periods, when the next show is in preparation on stage. To keep the audience (and their money) coming in, some venues show films or have other activities not involving the stage.

FINANCIAL BACKER
See ANGEL.

FIRST NIGHT
The opening night of a theatre performance often has a largely invited audience of people connected with the show but not directly involved in it (financial backers, contractors etc.)

GRAPEVINE
The theatre community is very close, and news/rumours often spread via unofficial routes. This so-called GRAPEVINE means that people are often well-informed about latest news. It is also very important to make a good impression on everyone you meet in the business, as bad impressions will be spread around the grapevine very quickly. Modern tools such as Twitter have made the grapevine even more widely spread, and great care must be taken to not publish anything on Twitter that you wouldn't say to someones face.

HOSPITALITY SEAT
Seating in a VIP area, or the best seats in the house, sold to corporate (business) clients for them to offer as incentives or gifts to employees or suppliers etc. Hospitality packages are available to many large music or sports events.

IMPRESSARIO
1) Now more likely to be called a Producer, the Impresario organised and financed the performing arts. Term originated in the Italian opera, in the mid 18th Century.
2) Automation control console and system by AVW Controls in London, UK.
AVW Controls website
JUVENILE LEAD
The most significant role in a play or film that is performed by a young actor / actress.

LOLER
Abbreviation for Lifting Operations and Lifting Equipment Regulations 1998 (UK Health & Safety Executive).
HSE LOLER page
MAKING THE NUT
(Colloquial term) The 'nut' is a break-even point, after which the show can pay it's bills. It's calculated either show by show or for the length of the production (some costly shows don't make their 'nut' until well into the run). The origin of the term is believed to be 'to survive, a squirrel has to find at least a nut a day. For a person to survive, they must make at least $xx a day -this dollar figure is their 'nut'.'

MARKETING DEPARTMENT
See PUBLIC RELATIONS.

MATINÉE / MATINEE
Afternoon performance of a show. (From the Latin for 'of the morning', but who does theatre in the morning?)

MR SANDS
Often used as a code word for fire over a public address system (e.g. 'Mr Sands is in the foyer' means there's a fire in the foyer). Many theatres have their own code words.

MSDS
Material Safety Data Sheet. Form available from manufacturers of, for example, smoke fluids. Lists any hazardous ingredients and other safety-related data about the product.

NUMBER ONE TOUR
A tour (of a show) that is booked into the best venues available in each area.

OPENING NIGHT
The first performance of a show in front of a paying audience.
Some new complex shows may have lower priced Preview performances before an official opening night, to allow the show to get up to speed and deal with any technical issues. The press is not allowed to review a show during previews, and are invited to the first official performance, which is then known as Press Night.

PAPER THE HOUSE
Marketing technique. Giving away tickets to a performance (eg Opening Night) to make a show seem to be selling better than it actually is, and to start generating 'word of mouth' interest.

PD's
(Abbreviation for Per Diem, Latin for Daily) A daily payment by an employer to touring technicians to cover daily living expenses. This is additional to the monthly / weekly wage.

PLAY AS CAST
Contract drawn up for an actor when casting is not complete.

PLAYBILL
1) A poster advertising a forthcoming variety show, originally shown with a list of the acts performing.
2) Brochure produced for American theatres as a wrap around for the programme of a particular show. The wraparound content is the same for all theatres across the country and contains news, features and advertising.
3) Also used as a generic name for the programme of a theatre production (listing scenes, cast, creative team, and possibly an article by the creative team about the creation of the show etc.)
Playbill website
POST-SHOW DISCUSSION
An occasional chance for the audience to stay in the auditorium after a performance to hear the director or actors talk about the performance, and to answer questions from the audience.

PRODUCING HOUSE
See RECEIVING HOUSE.

PROFESSIONAL*
Normally used for someone who's regularly paid for a particular job (as opposed to an amateur, who does it for fun). A professional attitude is essential when working in the theatre - this means you have to behave as if you were being paid. The theatre world is a very small community - if you behave badly or upset someone, it's highly likely you'll meet them again, and they will remember you!

PROGRAMME
A brochure or leaflet produced for the audience which contains a breakdown of the cast and creative team (and technical team) that have worked on the show. The programme may also contain a synopsis of the plot, a list of musical numbers, a note from the director, and full biographies of cast and creative team.
A Souvenir Programme contains full colour photos and more generic information which has a longer shelf life for a long-running show.

R&D
Short for Research and Development. This describes an experimental phase of a project when different ideas are played with, as the piece of work is being created.

RECEIVING HOUSE
A venue which has incoming touring companies (as opposed to a Producing House, which creates it's own productions). See also ROADHOUSE.

REDUCED VISIBILITY / RESTRICTED VIEW
Often used to describe a seat in an older theatre from which some parts of the stage are obscured either by columns supporting the seating, or because it's at the side of the venue, or behind a balcony railing. Usually cheaper than other seats, and often not quite as bad as they sound. More modern venues are built with the intention that every seat is a good one. Older venues, particularly in large cities, may have been built as variety houses, where the main act was downstage centre, and as long as that was clearly visible, the seats were all fine.

REPERTOIRE
A form of organisation where two or more productions alternate in the course of a season.

REPERTORY
A form of organisation, usually with a permanent company of actors, where each production has a run of limited length. At any time, there is normally one production in performance, another in rehearsal and several others in varying degrees of planning.
The first repertory theatre in England was Miss A.E.F.Horniman's Company at the Gaiety Theatre in Manchester, founded in 1908.
Often shortened to 'Rep'.

RETURN
1) Flats joined to the DS edge of flats of a set or unit that 'return' into the wings. They help mask and also keep the DS edge of a set from looking raw.
2) A financial report given to theatre management staff by the box office manager on a daily or weekly basis setting out the takings for performances.
3) Route for an auxiliary signal back into a sound mixer (see also SEND).

RIDER
(Technical Rider) Information sent to a venue by a touring group detailing lighting, sound, staging and dressing room requirements. Ideally arrives before the group !

ROADHOUSE
(US) Venue which receives touring shows. (RECEIVING HOUSE in the UK)

ROYALTIES
The prescribed fee paid to an author or his agent for the performing rights of a play.

SHOW ELEMENT
Term for an item of scenery or prop required for a production.

SMOKE DETECTORS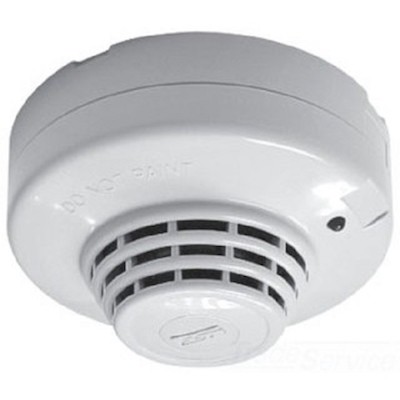 Many theatre buildings have complex fire alarm systems installed. Some theatre spaces have smoke detectors in them, which trigger a fire alarm when the space fills with smoke. The use of SMOKE MACHINES in these spaces can (and does) result in expensive call-outs of the fire department and evacuated auditoria.
There are special heat-sensitive detectors called RATE OF RISE detectors which trigger a fire alarm when the temperature rises faster than it should normally. Properly calibrated (and regularly tested) these can be as effective than the smoke detectors (which work by 'seeing' smoke particles in the air). If it's not possible to get Rate of Rise detectors installed in your theatre space instead of smoke detectors, you may be able (subject to local building regulations and local fire department advice) to isolate the smoke detectors for the duration of the performance when you use smoke effects. Properly designed alarm systems incorporate timed isolation, so that smoke detectors are only off for a specific period, and automatically come on after that period.

SOLT
Society of London Theatres (UK)

SRO
Abbreviation for Standing Room Only (i.e. there are no seats left in the auditorium). Standing room is not available in all venues, and depends on the number of people the licencing authority has licenced the venue for. If standing room is available, the number of people that can be admitted to the standing areas is limited, to ensure a safe evacuation is possible in the event of a fire or other emergency.

STIPEND
A type of payment to the cast and crew to help towards expenses incurred during the production process. The amount is usually based on the total money the show brings in, but sometimes it can be a set amount.
From Middle English stipendium (from Latin) meaning a fixed sum of money paid periodically for services or to defray expenses.
Submitted by Amy McIntire
SUPERNUMERARY
1) An actor who appears on stage but does not speak.
2) A member of staff over and above the number required to carry out a task.

TBC
To be confirmed. In a cast list, this can be taken to mean To be cast.

TECHNICAL RIDER
See RIDER.

TEMPORARY DEMOUNTABLE STRUCTURE (TDS)
(UK Health & Safety) Any structure built for an event, whether it's staging, seating or a marquee or similar outdoor structure.
UK Health and Safety Executive website
THEATRE IN EDUCATION
Often abbreviated to T.I.E. The use of theatrical techniques to educate, covering social issues or topics on the school's syllabus.

THEATRE ROYAL
Common name for theatres in the UK. The Theatre Royal, Bristol is the oldest working theatre in the country, opened in 1766.

TMA
Theatrical Management Association (UK) has since 1894 represented and supported theatrical organisations all across the UK. In 2014 the organisation changed it's structure and membership plans and is now known as UK Theatre.
UK Theatre Website
TRIGGER WARNINGS
Some audience members may be upset by particular themes that may be featured in some plays.
It's important that the creative team are aware of these themes, and how they may affect audience members, and if necessary consult with local support groups or charities that can provide advice on how to deal with the issues sensitively.
Although some venues may list the themes in advance publicity, others (such as The Old Vic in London) prefer to keep the trigger warnings unseen unless audience members ring the theatre in advance.

TURNAROUND
The changeover between one show and the text. It's important that the administration team scheduling the performances takes into account the time it will take to reset the stage back to 'clear' and then set up for the next show, ideally not involving overnight work!

WILL CALL
(Especially USA) Box Office or Ticket Booth at an event where you collect previously ordered tickets for that event, on the day of the event. Ensure you take relevant forms of ID so that the staff are able to release the tickets to you.
Formerly known in the UK as COBO (or Care Of Box Office).