Dates: March 2012 – January 2013
Spectacular high-concept arena performance featuring pyrotechnics, flying dragons, and a massive immersive projection system, from the company that created 'Walking with Dinosaurs'.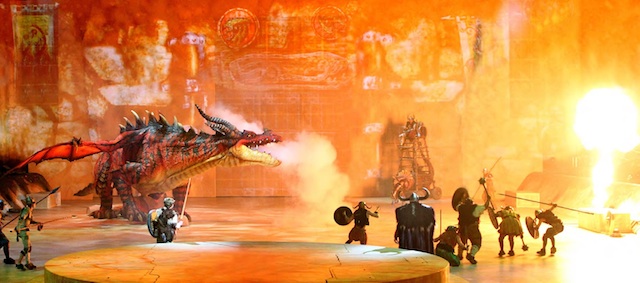 Thanks for visiting us at Theatrecrafts.com! Please check out the rest of the site using the menu above, and have a look at the SHOWS page for interesting information about your favourite theatrical productions!
From the Facebook page:
HOW TO TRAIN YOUR DRAGON LIVE SPECTACULAR, inspired by the phenomenally successful, Academy Award® nominated DreamWorks Animation film, fully immerses audiences into the show in ways that have not been attempted before.
Company Overview
The current How To Train Your Dragon Live Spectacular tour of North America is the second leg of the world tour that will span the globe over the next three years. However, before the tour heads overseas we intend to cover as much of continental North America and Mexico as possible. While tour details are still being put in place, we very much hope to be announcing more cities in 2013 in the coming months. We thank you for your continued interest in the show. The cast and crew are flattered by your amazing reviews and posts, and the organizers are appreciative of your suggestions and requests.
Description
Barely contained within the arena, the production utilizes the full venue, maximizing every dimension of performance space to transport audiences into a mythical world of fire-breathing dragons who soar overhead at great speeds. The state-of-the-art animatronic technology and large-scale cinematic projections interact seamlessly with the live actors to bring the story to life.
The show features 23 dragons, some with wingspans of up to 46 feet, Viking warriors and world-class circus artists and acrobats, to perform against a state-of-the-art, wall-to-floor immersive projection measuring more than 20,000 square feet.
Produced by DreamWorks Animation, RZO Dragon Productions and Global Creatures, the masterminds behind Walking with Dinosaurs, presented by S2BN Entertainment.
---
Links:
CNN Feature:
Behind the Scenes
How to Train Your Dragon Comes Alive: A Sneak Peek
See also
Walking with Dinosaurs: The Arena Spectacular
Past Tour Dates
From fan website http://nightfurylive.com/tour-schedule/
2012 Tour Dates
Melbourne, Australia March 2-11, 2012 Hisense Arena
Sydney, Australia March 15-25, 2012 Allphones Arena
Brisbane, Australia March 28 – April 1, 2012 Brisbane Entertainment Center
Auckland, New Zealand April 16-22, 2012 Vector Arena
Wilkes-Barre, PA, USA June 27 – July 1 Mohegan Sun Arena
London, ON, Canada July 4 – July 8 John Labatt Centre
Worcester, MA, USA July 11 – July 15 DCU Center
Washington, DC, USA July 19 – July 22 Verizon Center
Chicago, IL, USA July 25 – July 29 United Center
Uniondale, NY, USA Aug 1 – Aug 5 Nassau Coliseum
Toronto, ON, Canada Aug 8 – Aug 12 Air Canada Centre
Montreal, QC, Canada Aug 15 – Aug 19 Bell Center
Pittsburg, PA, USA Aug 23- Aug 26 CONSOL Energy Center
Cleveland, OH, USA Postponed (was Sept 5 – Sept 9) Quicken Loans Arena
Philadelphia, PA, USA Sept 12 – Sept 16 Wells Fargo Center
Buffalo, NY, USA Sept 20 – Sept 23 First Niagara Center
East Rutherford, NJ, USA Sept 27 – Sept 30 IZOD Center
Albany, NY, USA Oct 4 – Oct 7 Times Union Center
Columbus, OH, USA Oct 11 – Oct 14 Jerome Schottenstein Center
Detroit, MI, USA Postponed (was Oct 17 – Oct 20) Joe Louis Arena
Milwaukee, WI, USA Oct 25 – Oct 28 Bradley Center
Saskatoon, SK, Canada Nov 1 – Nov 4 Credit Union Center
Winnipeg, MB, Canada Nov 22 – Nov 25 MTS Centre
Seattle, WA, USA Cancelled (was Nov 29 – Dec 2) Key Arena at Seattle Center
Tacoma, WA, USA Dec 6 – Dec 9 Tacoma Dome
San Diego, CA, USA Cancelled (was Dec 5 – Dec 9) Valley View Casino Center
Oakland, CA, USA Cancelled (was Dec 13 – Dec 16) Oracle Arena
Fresno, CA, USA Dec 19 – Dec 22 Save Mart Center
San Jose, CA, USA Dec 26 – Dec 30 HP Pavilion at San Jose
2013 Tour Dates
Sacramento, CA, USA Jan 3 – Jan 6 Sleep Train Arena
Salt Lake City, UT, USA Postponed (was Jan 10 – Jan 13) Energy Solutions Arena
Anaheim, CA, USA Jan 17 – Jan 20 Honda Center
Bakersfield, CA, USA Cancelled (was Jan 23 – Jan 27) Rabobank Arena
Spokane, WA, USA Cancelled (was Jan 30 – Feb 3) Spokane Arena
Keywords: train your dragon 3 live spectacular. train your dragon live spectacular