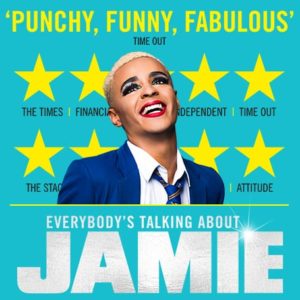 London Premiere:
Apollo Theatre (6 November 2017 – paused in March 2020 due to coronavirus. Resumed 12 December 2020 for only 4 days, then resumed again 20 May 2021, then paused in 26 September 2021 due to release of film version. It will return in 2022)
Music by Dan Gillespie Sells
Book and Lyrics by Tom MacRae
Directed by Jonathan Butterell
Set & Costume Design by Anna Fleischle
Choreography by Kate Prince
Musical Director: Theo Jamieson
Lighting Design: Lucy Carter
Sound Design: Paul Groothius
Video Design: Luke Halls
Casting Director: Will Burton CDG
A new musical based on the 2011 BBC Three Documentary about Jamie Campbell, "Jamie: Drag Queen at 16".
Official website: www.everybodystalkingaboutjamie.co.uk
2019 London Trailer
Original London Trailer:
Original Documentary: https://www.bbc.co.uk/programmes/b012p4kc
Film Version (2021)