Timeline (UNDER CONSTRUCTION)
1928 – Water Fountain show installed at the Resi Ballroom in Berlin
History
From the Liquid Fireworks website, run by the Przystawik family: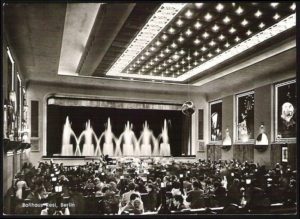 In the 1920′s, German inventor, Otto Przystawik, conceived the idea of combining the beauty of fountains with the music and gracefulness of ballet. Thus, "Przystawik's Dancing Fountains" were born. In the beginning, he created fountains on a small scale for display in restaurants and stores.
Interrupted by World War II, he resumed work in 1950 and created an impressive fountain show at the Resi Ballroom and restaurant in Berlin, which reopened in a new location in 1951. Accompanying live music, the spectacular display quickly became a popular local attraction.
In 1952 the dancing fountains appeared at an exhibition in Berlin, where they captured the attention of a brilliant New York showman, Harold Steinman. Enthralled by the beauty and spectacle of the shows, Steinman purchased dozens over the next several decades. Naming them the "Dancing Waters", his New York company sent the shows on tour throughout the United States and the rest of the world.
During the 1950′s, Otto and his son, Gunter, worked together in their German factory advancing their musical fountain designs. In 1965, Gunter moved to Florida, and with the passing of his father, continued the development of the family craft. After several dramatic breakthroughs, he named his new shows the "Waltzing Waters ®" to distinguish them from the older "dancing fountains" designed by his father.
Companies
See also