Below are listed interviews, events and talks related to the Backstage Heritage Collection.
If you're organising a talk that would be of interest to other Backstage Heritage folk, please let us know!
Interviews
Anne Militello (April 2018)
Talks & Seminars
October 2014


PLASA Launch of the Backstage Heritage Collection
featuring 'Re-discovering Lighting – Past, Present and Future', a seminar presented by Neil Austin, Robert Bell, Rob Halliday, Jim Laws and chaired by Richard Pilbrow
March 2015


A Short(ish) History of Computers In Lighting Control by Rob Halliday
A talk at the National Museum of Computing, Bletchley, Milton Keynes
November 2015


The White Heat of Revolution by Dorian Kelly
A talk at the Savoy Theatre, London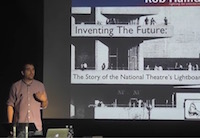 September 2016
Inventing The Future: The Story of the National Theatre's Lightboard by Rob Halliday
PLASA, 18 September 2016

June 2018
Women in Production Management
Production Managers Forum, featuring Hannah Lobb, Sacha Kilroy, Jacqui Leigh.
Forum chaired by Sarah Rushton-Reed.
From the ABTT Theatre Show, June 6 2018.