MMS (1973 - 1980)
Strand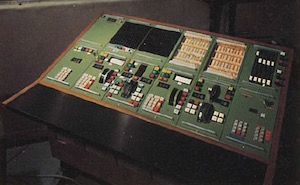 MMS
Modular Memory System with 80, 120, 240, 360, 480 channels.
MMS was the first mass produced memory control and jumped two hurdles in a single stride: it took full advantage of low-priced integrated circuit technology, and dispensed with a rocker switch per channel in favour of a calculator style keypad and wheel, to control up to 480 channels.
The system consisted of self-contained function modules (which could be chosen by the purchaser) linked by a common buss, used singly or in multiples for facilties required.
Channel control was by a dedicated numerical keyboard including (the now common) THRU, @ and the first use of a digital fader wheel.
The Mimic module gave above-zero indication for each multiple of 120 channels.
Used Ferrite Core memory.
First in 1973 was for the Birmingham Hippodrome, and the last was in 1979.
A total of 208 MMS desks were sold.
The desk was replaced by the Galaxy (1980) and later the Gemini (1984) systems.

Overview:
The Modular Memory System consists of a number of modules, each providing complementary or alternative operational facilities, which all plug into a common digital data link. For 80 up to 360 control channels, with only two module types repeating for each multiple of 120, or less, channels. Virtually any operational facility required to suit the particular needs of each theatre or studio can be incorporated by selection from the many types of module that are now available; these include manual and/or sophisticated timed crossfades, cue-insert, group control, remote control, library storage, and print-out/type-in. All desks include fast, random-access high -density core storage and the Strand fader wheel for match-less intensity modification.

Active or preview mimic display can be either above-zero indication, or a colour and/or monochrome video display showing precise intensity levels.
Related Venues: