Flying Pig Systems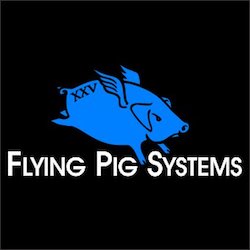 Founded by Nick Archdale (founder of Digital Lighting Desk Company in 1985), Tom Thorne and Nils Thorjussen in October 1991. Flying Pig Systems was central to the lighting control revolution of the 1990s, with the emergence of the Wholehog product line.

The team reunited at PLASA for the 25th Anniversary of the Wholehog
https://www.lsionline.com/flying-pigs-at-plasa-2017

In April 1999, it was announced that High End Systems and Flying Pig Systems were merging. High End Systems became the worldwide distributor for the Wholehog range, and took over customer service support for Flying Pig products.
Exhibits in the Backstage Heritage Collection
---
---