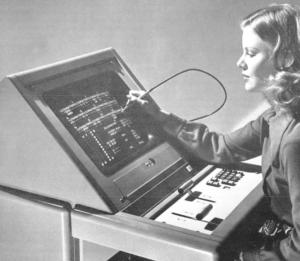 Light pen-driven memory lighting control for television
According to Richard Pilbrow's "Stage Lighting Design: The Art, The Craft, The Life", Autocue was "The first U.S. minicomputer control, and used a touch-sensitive video screen to access channels, set levels and record memories with a light-pen."
However, the light pen didn't use a touch sensitive monitor (although it appeared that way). The light pen detected the video image being scanned on the CRT monitor and used the timing of the image being detected to calculate the position of the pen on the screen.

The system was developed by Adrian Ettlinger for CBS Television (where he worked), and in January 17 1972, the SMPTE Motion Imaging Journal said "The CBS Television Network has placed in service a computerized memory lighting control system using a new design concept. The system represents the first application of a stored-program "minicomputer" to stage lighting control. A television monitor display and light pen are used as the main indicating and control instruments, permitting a broad range of functions to be performed accurately in a control unit of small physical size. The system's physical configuration and operating characteristics are described."

The system was marketed by Skirpan after CBS did not want to pursue the system commercially.
A patent was filed by Adrian Ettlinger on August 24 1973 (continuing a patent he first started on April 18 1971), and was granted on August 5 1975.
The system was based on a PDP-8 computer.
---
Documents

Advert - Skirpan Autocue (Theatre Design & Technology (May 1973)
Click on thumbnail to enlarge
[222kb JPEG]

Skirpan Astral and Autocue from Theatre Design & Technology
(November 1973)
[External Website]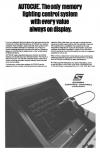 Advert - Skirpan Autocue (Educational Theatre Journal) (March 1974)
Click on thumbnail to enlarge
[135kb JPEG]
---
---
---
---
640