Giotto (2001)
SGM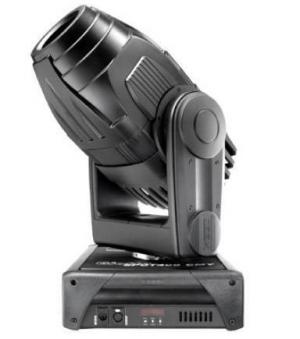 SGM Giotto 400
Giotto 400 - CMY Moving Head Spot (2001)
From LSI, 26 July 2001
The Giotto Spot 400, the latest addition to the SGM range, is a moving head fixture designed and built specifically for use in large shows, theatres, television studios and entertainment venues. The 400 has a range of features including variable zoom, which enables linear beam angle adjustment from 9° to 24°; an electronic ballast (which ensures flicker-free light, bright stabilized beams and lighter fixture weight) and a linear diaphragm which allows to set the beam width. Excellent luminous performance (10,000 lumens) is achieved thanks to Giotto's combination of a Philips MSR 400HR discharge lamp and a dichroic reflector, which allows the heat to be dissipated on the rear of the fixture, thus ensuring maximum temperature reduction. Internal fixture components are all easily accessible, thanks to the simplicity with which the unit's body can be opened. All maintenance procedure is thus facilitated to the utmost and extremely fast. As well as carefully studying the various mechanical and electronic components, SGM also paid close attention to the fixture's appearance, studying smooth stylish lines that fit perfectly into any environment in which aesthetics are considered an important factor. Another major goal achieved with this moving head fixture is its very quiet operation, a feature sure to be appreciated in the theatre world, but also elsewhere.
Giotto Digital 1500 (2008)
The SGM Giotto Digital 1500 has truly unique revolutionary features. With a special patented application of DLP technology, SGM has managed to combine the advantages of the generation of digital effects with its lengthy experience in designing moving head fixtures which, thanks to their brightness and speed, have become a standard in the most important live, theatre and television applications.
Giotto Digital 1500 stands out for the fact that it has the typical format of a moving head fixture designed and manufactured mainly for entertainment lighting, but is equipped with an innovative all-digital system for the generation of graphic effects, while maintaining fundamental features such as fast movement, brightness, control standard and compact dimensions.
LAMP
MSR GOLD 1200 FAST FIT
Average lamp life 750 hr.
Fast restrike
Remote Lamp on/off via DMX
Lamp power reduction in the event of overheating
Lamp elapsed time and ignition counters
COLOUR
Advanced CMY colour mixing
2 customizable colour wheels: 10 colours + white
Linear CTO filter GOBO
Selection of preloaded gobos and movies, offering ample opportunities of movement
2 layer gobo/image
Digital Iris, digital beam shaper
EFFECTS
Frost lens
Colour change in sync with or without music
Rainbow colour
1 rotating prism (4 facets)
1 overlapping non-rotating prism
Digital Iris
4 blade digital beam shaper
Continuous blade rotation
Full range translation
OPTICS
Motorized zoom 10°-30°
Motorized focus
DIMMER – SHUTTER – STROBE
Linear dimmer
Shutter
Strobe 1-12 flashes per second, also with music sync
PAN TILT
Pan 530° 4 sec.
Tilt 250° 3,4 sec.
Pan/Tilt lock; electronic Pan/Tilt unlock
Pan/Tilt w. 8/16 bit resolution
Automatic Pan/Tilt repositioning
INPUT
DMX 512 or RS 232 input signal
55 DMX channels
Ethernet interface (ART-NET protocol)
Wireless DMX interface as standard
RDM protocol implemented on DMX (monitoring internal parameters)
SET UP
Settings via on-board microcomputer viewable on display, even with fixture off
Display "flip" function 180° rotation
Adjustable display brightness
Fixture running time counter
On-board temperature sensors (base, power, one for each module)
Total fixture software update via DMX
Graphic display (128 x 64)
POWER
Power supply with PFC (universal 90/245V 50/60Hz); protected against 400V
Electronic Ballast
CONSUMPTION
Max consumption: 2,000 W
Automatic energy saving in the event of blackout use
DIMENSION
WEIGHT
---
Documents

ETNow - SGM Giotto for Coldplay
(August 2002)
[External Website]
From
ETNow
---
---
---
63