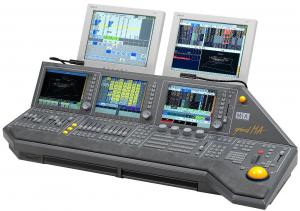 grandMA
Powerful memory console
From MA Lighting website:
In the spring of 1997 MA introduces the eagerly awaited grandMA console to the world. Based on the MA Scancommander and Lighcommander this hybrid lighting control console brings a new level of hardware sophistication to the lighting world. The full color touch screens, motorized faders, built in UPS (uninterruptible power supply) and hard drive are only some of its many features.

In the summer of 2000 the range is expanded:
grandMA light
grandMA replay unit
grandMA offline editor
and in 2001:
grandMA ultralight
2004: Software Version 5 released. grandMA can now handle up to 64 DMX universes via 16 MA NSP (Network Signal Processor).
---
Documents

grandMA Brochure
(2004)
[457kb PDF]

LSI - Classic Gear - grandMA
(January 2016)
[941kb PDF]
From
Lighting & Sound International
---
---
---
---
743