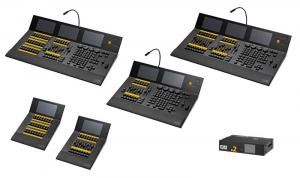 dot2 range
Range of compact lighting control consoles
From MA Lighting website:
In 2015 MA presents a new range of compact lighting control solutions – the dot2. The dot2 range consists of three lighting consoles; dot2 core, dot2 XL-F, dot2 XL-B; two playback expansion wing solutions; dot2 F-wing and dot2 B-wing and the dot2 Node4 (1K) network output node as well as the dot2 onPC console software and the dot2 3D visulisation software solutions.
Designed for small and mid-sized projects and venues, dot2 offers advanced functionality with outstanding ease-of-use. Full tracking backup is available via plug and play networking.
---
Documents
On Test: Dot2
(September 2016)
[External Website]
From
Lighting & Sound International
---
---
---
582