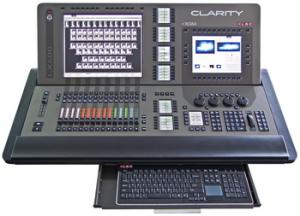 Clarity LX600
From LSC website, 2018:
The LX console is the World's first true MultiMedia console, allowing seamless integrated control of conventional, LED and moving lights, media servers, and even audio playback from a single device.
Designed with over 30 years of experience by LSC Lighting Systems and OpenClear, it provides an ergonomic work surface with powerful software, placing emphasis on quick and logical workflow to allow the operator to acheive more, in less time.
Features like Smart Fixture Cloning, Copy/Paste & Freesets can save 2-3 hours of programming per gig, allowing more time for creativity whilst reducing costs.
Clarity LX - The future of lighting control. 
The LX consoles are available in 3 models. The Flagship LX900 comes with 2 banks of 15 motorised playbacks, 10 touchscreens, tilting top panel, dual colour backlit control surface, and can control 16,384 DMX slots. The mid range LX600 has the same features set, with 1 bank of 15 motorised playbacks, 9 touchscreens, and control of 8,192 DMX slots. The LX300 is the smallest console in the range, yet still includes the same backlit control surface, 15 playbacks, 11 mini touchs screens and control of 4,096 DMX slots.
All the LX consoles run v2 of the renowned Clarity lighting control software. Developed by OpenClear over a period of 6 years, it provides an easy to learn interface with an impressive feature set, designed to reduce repetitive tasks and allow for very fast programming of complex shows. The Clarity software has been sold as a standalone product for Windows and Mac computers for over 3 years and during that time has proven it is show safe on thousands of shows, from small fashion parades right through to large festival rigs with hundreds of moving lights, LED's, Media Servers and conventionals.
Ergonomics were a major design consideration with the LX consoles. Specialist Industrial Designers with extensive HMI (human machine interface) experience were bought in by LSC to create the control surface. The relative height, size, spacing and even the shape of the keys, encoders and faders were optimised to allow free movement around the control surface and to minimise fatigure during all night programming sessions.
 
---
Documents

Clarity LX-Series Brochure
[2.25Mb PDF]

Tech Focus: Clarity LX
 (January 2016)
[External Website]
From
Lighting & Sound International
---
---
---
855