Entertainer (1982)
Kliegl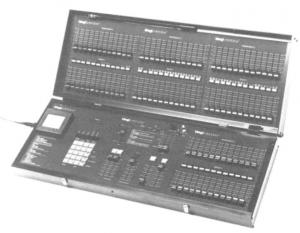 Kleigl Entertainer (from TD&T 1982)
Memory lighting control
(From Theatre Design & Technology, Fall 1982)
Portable memory lighting control console, providing proportional patching of dimmers to 12, 24, 36 or 48 group masters and up to 48 memories within a simple two-scene preset system. Playback functions provide for flash button operation of memorized 'looks' along with chase and latch functions with level controls.
The split dipless crossfader has adjustable fade rate from one second to five minutes with associated progress indicators. Both manual and group controllers may be be operated at the same time to provide for more flexibility of control. The console is designed for digital bidirectional communication with K96 SCR dimmers. The console has built-in self-testing diagnostics. Optional library storage and hard copy printer are available for recording cues. The dimensions of the basic system console are 30"W x 12"D x 4"H.
---
---
---
558