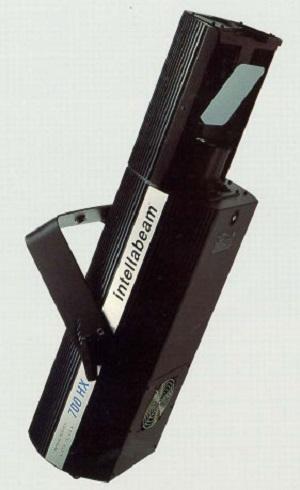 High End Systems Intellabeam 700HX
Moving Mirror fixture.
Heavily used on the 1991 Dire Straits tour
Models:
Intellabeam 700HX

Video: 24 x Intellabeam 700HX
This was about shortly after the fixtures were first introduced by High End Lighting Systems. Programming by Thommy Hall and David Renshaw at the Wigwam Resort in Phoenix, AZ for a General Electric Motors Corporate show.

Initially used with a custom controller with an LED screen.
In 1993 a controller with an LCD screen was introduced.
Related Shows
See also:
---
Documents

Intellabeam 700HX User Manual v1.0 (LED controller)
 (May 1992)
[14.14Mb PDF]

Intellabeam 700HX User Manual v3 (LCD controller)
 (August 1993)
[15.45Mb PDF]
---
---
---
---
2336