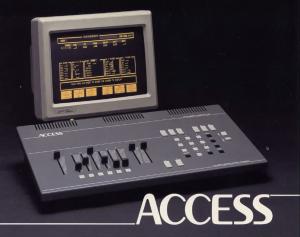 GAM Access

Invented by Gordon Pearlman
In an interview with Robert Bell, he stated the Access cost $149 to make (excluding the monitor), with a list price of between $1700 and $2495, so was one of the most financially successful lighting controls ever made.

First launched in 1985 with analog outputs only.
A DMX output module was created once the DMX512 standard was ratified in 1986.

Steve Terry said "Unfortunately Access used soft keys a bit too much for the taste of the market, and it was hard to remember where things were hidden. Also, no floppy disk--just a PCMCIA-like memory card. GAM sold a lot of them, but the Microvision took over that slot in the market."
See also:
---
Documents
---
---
---
662