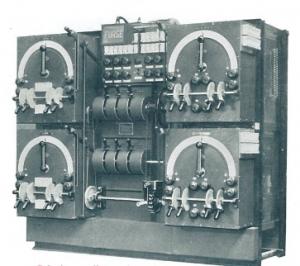 Delicolor installation at The Central Pier, Blackpool UK (1946)

Designed by Rollo Gillespie Williams, who moved from Holophane to Furse.

From 1946 brochure:
"A revolution in Colour Lighting
Delicolor is a patented equipment for operating a system of lighting control employing circuits of three primary colours - red, green and blue, plus a fourth circuit of white used as a balancer. These colours are blended to produce light of almost any known hue. The controlled is constructed to reproduce at will mixtures of light corresponding to any of the colours between numbers 1 and 54 in the British Stage Gelatine range - other important colours can also be selected and any hue can be varied in tint and brightness to suit individual taste."

British Stage Gelatine Range:
1) Yellow
2) Amber
3) Straw
4) Medium Amber
5) Orange
6) Red
7) Light Rose
8) Salmon
9) Middle Salmon
10) Middle Rose
11) Dark Pink
12) Off-Rose
13) Magenta
14) Ruby
15) Peacock Blue
16) Moonlight Blue
17) Steel Blue
18) Middle Blue
19) Dark Blue
20) Deep Blue
21) Pea Green
22) Moss Green
23) Light Green
24) Dark Green
25) Purple
26) Mauve
32) Medium Blue
33) Deep Amber
36) Lavender
39) Green
50) Pale Yellow
51) Gold
52) Pale Gold
53) Pale Salmon
54) Pale Rose

The system is credited ("Delicolor Lighting by Furse & Co.) in the 1946 programme for Piccadilly Hayride at the Prince of Wales Theatre, London.
Related Venues:
---
Documents

Delicolor Brochure
(July 1946)
[1.04Mb PDF]
From
Mervyn Gould Collection
---
---
---
708