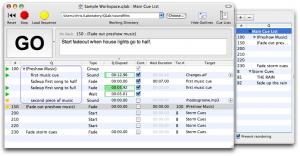 QLab 0.9 Interface (Feb 2006)
Media Playback and Show Control for Mac
Official website: http://figure53.com/qlab/
With QLab 4, the ability to control lighting using the ArtNet protocol was added.

Original Development Team (From the 2006 website)
Christopher Ashworth - Software Engineer, Researcher, Actor, Masters in Computer Science
Jesse Kriss - Designer, Coder, Musician
Joey Lesh - Project Manager and Code Wrangler
Jory Raphael - Theatre Artist and Graphic Designer (Qlab gear icon and Qlab application icon)
Interviews:
Chris Ashworth -
Apologue Podcast
(Episode 153 October 2017)
Software Versions (from web.archive.org)
QLab 1.3.5 (May 2008)



QLab 1.1 (February 2007)
Enhance the free version of QLab wth these new upgrades:
Pro Control Licence
Enhanced Audio Licence
Pro MIDI Licence
QLab 1.0 (?)
Qlab Pro (Pre-Release Demo, August 13 2006) - Paid
QLab Pro includes MIDI Voice Message Cues, MIDI Show Control Cues, and access to sixteen output channels. It is under active development, just like QLab, but you can give it a shot to get a sense of where it's going:
Version 0.9 February 2006 - Free
"The fundamental building block of a QLab workspace is the cue. What is a cue? Well, a cue might play a sound, or start another cue. A cue might adjust the volume of a sound, or do nothing but wait for a particular length of time. In fact, a cue is just about anything that can be started and stopped.
In QLab, every cue is a plugin. Adding new types of cues is as simple as dropping them in your QLab plugins folder.
Our first release of QLab focuses on sound design. But we're not stopping there. In time, we plan to provide cues for everything from video playback to shell scripts."
General
Autofollow immediately or after a specific time (accurate to thousandths of a second).
Intelligent pre-loading of every cue ensures fastest possible response times.
Easily seek to arbitrary positions within cue sequences.
Pause, play, rewind, and fast-forward any running sequence.
Store comments and notes with any cue.
Name and number your cues anything you want...or nothing at all.
Edit many cue parameters "inline" with minimal keystrokes.
Group Cue
Build complex composite cues of unlimited size.
Support for hierarchies of unlimited depth.
Expand groups to view their contents, or collapse them to hide the details.
Easily change any group into a cue list, or vice-versa.
Sound Cue
Unlimited sound cues can play simultaneously.
Independent matrix mixer for every sound cue; set levels independently for every sound.
Support for 8 channels in and 8 channels out for each audio file.
Support for up to 8 independent audio output devices per workspace.
Support for multiple file formats, including WAV, AIFF, MP3, and more.
Adjust start and stop times with millisecond accuracy.
Easily loop audio clips a finite or infinite number of times.
Customizable buffer size, from 1 to 30 seconds.
Fade Cue
Fade single sounds or whole groups of sounds with one fade cue.
Support for absolute or relative fades.
Support for customizable fade curves, including logarithmic and linear curves.
Fade any channel of a sound, including crosspoints and inputs.
Specify end volumes for each channel independently.
Start Cue
Trigger any cue sequence in the workspace, including cue lists.
Stop Cue
Stop any cue or group of cues in the workspace, including entire cue lists.
Goto Cue
Simple adjustment of playback flow control.
Wait Cue
Wait during playback for a specific length of time, accurate to thousandths of a second.
Coming Soon
Midi Listener Cue
Midi Message Cue
Midi Show Control Cue
Future Cues
What can you expect from QLab in the future? Among our top priorities is adding a variety of MIDI Cues. Other cue types we have in mind include:
Video Cue
OSC Cue
Shell Cue
Quartz Composition Cue
...just to name a few. Stay tuned.

QLab 0.1 (December 2004)
The first ever show to run on a 6-week old version of QLab was at Theatre of a Thousand Juliets in January 2005. (from the QLab WIKI)
---
Documents

LSI - Classic Gear - Qlab
(February 2015)
[778kb PDF]
From
Lighting & Sound International
---
---
---
1065