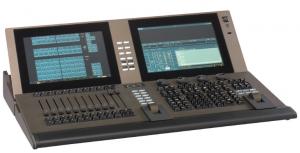 2011 Addition to the Eos range

From 2012 Product Catalogue
Debuting to praise at the autumn 2011 international tradeshows, Gio is the newest console in ETC's award-winning Eos lighting-control line. Gio fills the mid-range position in the family, between Eos and Ion - boasting the same powerful programming DNA. Gio offers Eos-level functionality and popular operational syntax, in a compact, portable footprint - to fit anywhere or to take on the road.
Gio also introduces new technologies to the Eos line-up. The console features backlit buttons to make working in dark places easier (and saves your dimmable Littlites for seeing your script instead!). Gio also includes two integral, articulating multi-touch displays and supports up to three external displays, all of which can also be multi-touch.
Gio's keypad layout is virtually identical to Eos's, making moving between platforms a snap. And, Gio can integrate into an Eos or Ion system with ease, acting as a primary, back-up, or client console in combination with the rest of the family. All of the accessories for Eos and Ion service Gio as well.
Gio - more Complete Control - from ETC.
See also:
---
Documents

LSI: Gio @5
(April 2017)
[External Website]
From
Lighting & Sound International
---
---
---
564