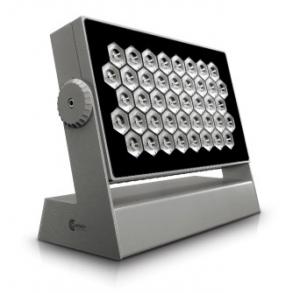 Odeon Flood
The Odeon Flood family is a range of compact floodlights for architectural use, available with various optical units (15°, 25° and 35°) and aesthetic finishes.
They feature high-power multi-chip LED technology, which ensures excellent color mixing and perfect DMX/RDM dimming.
The light of the lightweight, stylish, easy-to-install Odeon Flood enhances historic and artistic monuments, public and private buildings, architectural structures, and parks, trees and gardens, as well as businesses such as shops, shopping centres, restaurants, hotels, cinemas, gyms and leisure centres.
Their IP65 and IK09 protection ratings and working temperature (-25°/-50°C) ensure durability and constant reliability over the years, even in harsh weather conditions.
Power:  Universal AC input 90-305 Vac @ 50/60 Hz50/60 Hz
Input power (PF 0.98):  320W max
Light source:  42 x high power multichip OSRAM LEDS;  LED technology with exclusive "Hexeel" optical system
Total output: 12,000 lm (RGBW); 15,500 lm (TW); 24,000 lm (W)
Maintenance: 80,000 hrs [L70@25°C]
Optics:  Three optics available: 15° (narrow), 25° (medium), 35° (flood)
Colors: RGBW color mixing
Color temperature:  625 nm (red), 527 nm ( green), 453 nm ( blue), 6500 K (white)
Light intensity:  0-100% dimmer
Control options:  DMX 512/RDM
Channels:  4 DMX channels
Working position:  Floor stand or hanging (using optional adapter); any working position
Protection rating:  IP65 - IK09
Operating temperature:  -25°C to 50°C
Chassis:  Head in die-cast aluminium; base in stainless steel
Chassis color: Available in polished metallic (grey RAL 9007)
Coating:  Electrostatically powder finish - resistant  to hostile environments
Head adjustment:  on 135° (45 ° forward and 90° backward)
Size: 525mmx400mmx255mm (20.6"x15.7"x10")
Weight: 23 Kg (50.7 lbs)
---
---
---
---
824