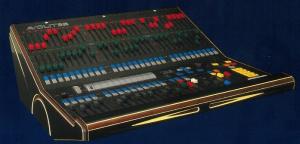 Avolites Rolacue

Rolacue 30 channel: Introduced in 1984. The 60 channel version followed in 1985.

From LSI article, 1986
The Rolacue series of memory consoles represents an important part of the new generation of Avolites control consoles. It has been designed specifically to offer powerful and flexible programming facilities in smaller applications, where budgets can often be limited.
Although Rolacues offer comprehensive facilities including rapid Memory and Chase modification and Preview, they are extremely simple to operate even for someone approaching memory consoles for the first time. All Rolacues are linkable and have the facility to save and load information via 3.5 inch disk drive. This allows access to large numbers of channels without the commitment to an extremely large console.
---
Documents

LSI: Guide to Memory Desks
(May 1986)
[1.91Mb PDF]
From
Lighting & Sound International

Rolacue Leaflet
(1987)
[849kb PDF]
From
Jim Laws Collection

Advert - Rolacue (January 1987)
Click on thumbnail to enlarge
[242kb JPEG]
From
Lighting & Sound International

Avolites Price List
(June 1987)
[558kb PDF]
From
Jim Laws Collection

Hire Price List
(June 1987)
[743kb PDF]
From
Jim Laws Collection
---
---
---
693