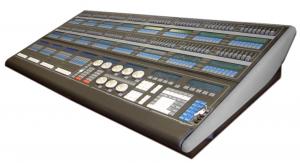 Diamond 4 Titan

Diamond 4 Classic (2001)
Diamond 4 Vision (2004)
Diamond 4 Elite (2004?)
Diamond 4 Titan (v.1 - 2005, v.3.0 - 2010)

Diamond 4 Vision
This is the latest in the powerful Diamond 4 Series, the new generation of top-level lighting control from Avolites – now in use on many high profile tours and venues worldwide.
The D4 Vision's stylish and aesthetically pleasing profile reveals a lighting console that's intuitive to operate, offers minimum operator fatigue and the ability to create the fastest, most cost-efficient, stunning shows.
This Diamond 4 Vision is designed for large-scale shows, festivals, concerts, events and multi-purpose venues.
It addresses the need for fast, accurate and immediate control of numerous intelligent lights, conventional fixtures and other DMX devices.
The D4 Vision builds on other consoles in Avolites' Diamond 4 Series – the D4 Classic and the D4 Elite, incorporating yet more groundbreaking features.
Avolites – after intensive user research – has designed a console that is equally at home in live 'hands-on' situations as it is in more controlled 'pre-programmed' environments.
The D4 Vision addresses the whole spectrum of production situations. For those with plenty of time, the Vision's newly designed programming panel allows the entry and selection of fixtures and palettes by number, whilst the electronic palette gives entry by legend. These entry systems can be mixed in any way, and are always available simultaneously.
Also new is the storing of Times within a Palette, expanding the ability to use Palettes during live performance, and ensuring a highly flexible toolkit for use during programming. The built-in Looks and Palettes, and the D4 Vision's easy use, enables operation of a show when there's been no pre-programming whatsoever.
The new processing engine ensures that response times for selecting and running anything are fast and seamless.
In addition to the 24 high resolution graphic LCD screens, dual high resolution colour monitors ensure that the D4 Vision's information is presented and formatted in an easy-to-understand-style.
All data is stored on the console's hard disk, and can be backed up onto USB memory stick/CD or copied via the Ethernet connection to a PC.

Diamond 4 Elite
The D4 Elite console is streamlined to offer the maximum power and functionality in the minimum physical space, recognising the ever-growing need in all applications to use FOH and control spaces expediently. It's ideal for all areas of professional lighting.
The D4 Elite is fully featured and cased in a smaller, lighter chassis, complete with 14 submasters and 96 assigned playbacks, with direct access to 96 fixtures or cues via the re-assignable Preset Playbacks.
In the D4 range, Avolites wanted to offer a physically smaller console that retained the flexibility and versatility for which Avo products are renowned.
The electronic legending increases set up speed and allows the automatic configuration of a huge programming Palette.
The D4 Elite significantly expands the number of Palettes, and more processing power ensures faster access and response time for all functions. Instant Access features like the live recall of 'Palettes' during the show is a hallmark of Avolites and loved by operators.
Increased software capabilities and dual VGA monitors make the console even more versatile, logical and fast to programme. Naturally, the D4 Elite also retains the hands-on intuitive feel that's made Avolites' desks the most popular 'live' operation consoles worldwide.
---
Documents

Diamond 4 Titan Manual v3.0
(August 2010)
[4.49Mb PDF]
---
---
---
721