Access equipment for stage use is a tricky area.
UK Health & Safety legislation stated for many years that a ladder is not a working platform, and that wherever possible work at height should be avoided. But if it cannot be avoided, it should take place on a platform. This rules out the use of sturdy ladders such as the Skymaster range made by Zarges.
However, in recent months, the legislation has been updated to be less restrictive, but still encouraging a safe method of working.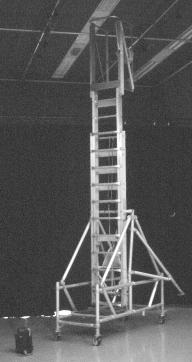 TALLESCOPE
For many years the UK theatre industry has made use of the Tallescope (see photo right), manufactured by Aluminium Access Products. The benefit is that it can be wheeled around the stage with a technician at the top, to make focussing time-efficient and safe. However, in order to continue with this activity, the latest legislation requires the tallescope to be modified. The version shown here has two outriggers (not fully deployed when the photo was taken). The modified version requires an additional 2 outriggers, extended vertical poles at each end to enable staff to move the ladder without bending down, and wheels which can be locked without causing the platform to move. Once these modifications have been made, the Tallescope can be safely moved again. Without the modifications, the technician must make her/his way down the vertical ladder between focussing each instrument.
GENIE LIFT
A range of access equipment including scissor lifts, extendable work platforms and cherry pickers made by a company called Genie. These can be highly suitable for larger venues, but due to their weight, are not suitable for use in some converted buildings or on some sprung floors.
Genie Website
SCAFFOLD TOWER
Heavily used in the construction industry, the scaffold tower provides a safe platform, which can be moved into position (but not with anyone on the tower), and can be built to the correct height for a given situation. However, the main health and safety problem with it is the amount of construction time to build the tower, and the risk of it being assembled incorrectly by inexperienced people. As with the tallescope, outriggers must be used to ensure the tower is stable, and the brakes should be used when the tower is in position. Care should be taken when moving the tower to ensure it doesn't knock lighting instruments or scenery, so it should be assembled to an appropriate height so that there's clearance between the tower and the stage equipment.
When construction and use is properly supervised, the scaff tower (as it's sometimes known) is a good solution.
Parrs Workplace Equipment page about scaffold towers (UK)
Instant Upright – Aluminium Tower Systems
ESCA
Range of mobile access platforms
Esca Website
Jon Primrose, September 2012 (no trademark infringement is intended)