Pirouette (1996 - ?2002)
Strand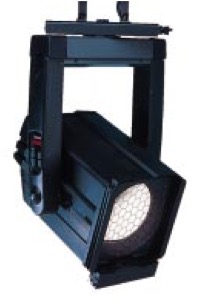 Automated Wash Light

Moving Yoke PC/Fresnel spot, 2000/2500W with accurate position servo of pan, tilt and focus, otherwise as Alto F.
Requires own power supply network and controller.
Supplied with interchangable PC and Fresnel lenses the Pirouette automated spotlight combines high light output with precision focusing to answer a wide range of production problems. Featuring 16 bit resolution, all units will focus accurately within 0.3 degrees throughout the operating range. Designed to make the most effective use of tightly packed rigs or hard to access locations, this powerful 2000 Watt spotlight provides unparalleled flexibility.
Exceptional movement range with 370 degrees horizontal rotation and 270 degrees of tilt adjustment.
Beam spread is adjustable from 4 to 58 degrees
Full support for 16 bit position accuracy
Designed to accept any DMX scroller
Set up and diagnostic access is readily available on the luminaire yoke.