Galaxy (1980)
Strand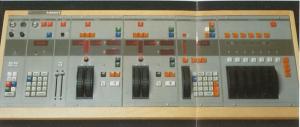 96, 144, 190, 240... 768 channels
Affectionately known as Lightboard III by David Hersey and Richard Pilbrow.
The first in the West End was installed at the Apollo Victoria for The Sound of Music, lit by David Hersey.
The Galaxy desks were also in common use at the BBC, and were only taken out of service when ETC's Congo desk was brought in. Many were installed at the BBC production centres in White City and at Elstree.
Related Venues: