JP Series (1965 - 1975)
Strand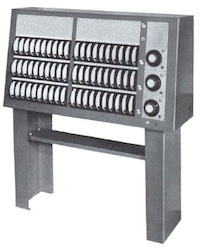 Strand Electric JP.20
20/40/60 channels
20 channel 2-preset desktop or wall mounting.
40 / 60 channel 3-preset in near-vertical wing.
All with rotary master dimmer per preset. Originally with twin shared quadrant scale faders in two or three rows, later twin flat scale faders.
For remote control of 20 x 2kW max JTM dimmer racks.
First in 1965, a 40 channel 3-preset desk for Studio, Cannon Hill, last was in 1975.
(Early date for transistors of JTM trigger card is explanation of Strand's 0 to -10V analogue interface).