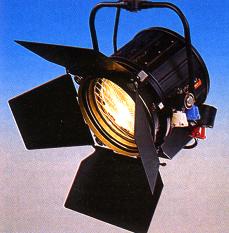 Castor
1250/2000/2500W Fresnel Spotlight
The Castor is a light-weight, compact fresnel spotlight suitable for studio or outside location. It is available with Bi-post or 4 pin lampholders, the latter for use with twin filament lamps where either or both filaments can be selected for choice of light output at constant colour temperature.
Supplied with 4-leaf rotating barndoor, colour/diffuser frame, wire guard and 7 metres of power cable.
Compact 2000/2500W Studio Fresnel
Popular general purpose keylight and backlight in studios and on location
Manual or pole-operated versions
Manual version suitable for location lighting
Stirrup fitted with 29mm spigot
Dual filament lamp 1.25/2.5kW version available.
Rotary power switch fitted
Castor 2kW replaced by Studio Fresnel range in 1999