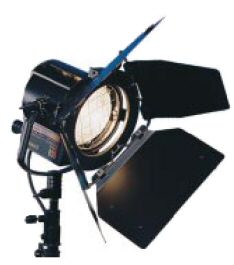 Range of 300W - 10kW Fresnel Spotlights

[Text from 1996-7 range 300-500W]
Compact and rugged design, ideal for location work.
Designed for easy handling in the studio or on location
Easy action spring loaded top catch for security but with quick access for accessory fitting
Exceptional performance from generous lens sizes
Optimised for even spread and wide focus range
Superb light control from generously proportioned barndoors
High quality mechanics for years of reliable operation
Wide front access for easy lamp replacement
Both models accept a range of studio and long life lamps for extra flexibility. Bambino 500 accepts up to 500W maximum
Bambino 500 has unique single sided yoke design which is adjustable for close rigging
Bambino 500 has reversible accessory ears to either allow space for multiple scrims or with reduced depth for fitting fewer scrims but without light spill
Both fixtures available in portable lighting kits complete with accessories and stands in a rugged carrying case.
Bambino 650 introduced in 1996.