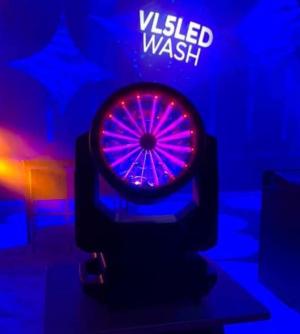 VL5LED Wash

Previewed at LDI, November 2019

This true modern update to the Emmy-winning VL5 is a compact, high output LED wash luminaire, bringing a host of modern features to the familiar form factor of this unique fixture. The VL5LED WASH offers the features designers want—including a wide color spectrum, SmartColor control, motorized zoom, variable diffusion, and more—with the look, size, and quality of light that LDs expect from a VL5.
For a wide range of saturated and pastel color options from a single fixture, the VL5LED includes a RGBALC color system that can be easily controlled using the innovative SmartColor Control System. With SmartColor Control, programmers can use traditional CYM+CTO control they are familiar with to achieve rich colors from the RGBALC color system.
The new WASH brings back the vintage stylings of the VL5 with Dicro*fusion blades, for a strong visual element on stage. The Dichro*fusion blades, first seen in the VL6500 WASH, supply smooth, variable diffusion in addition to providing a great look for stage and camera.
Designers have even more visual options with the VL5LED WASH thanks to a separate ring of LEDs that light up the Dichro*fusion blades a different color than the light coming from source engine. The LED blade lights offer chases and other built-in effects, and can also be pixel mapped. The blade lights, along with an onboard motorized zoom and wider color spectrum, offers a range of new visual options and bring more flexibility to this classic fixture.