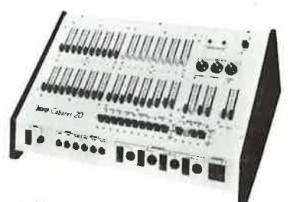 Cabaret 20
20 channel club type control desk
(Information from Thorn catalogue, 1980)
Control desk with comprehensive manual, disco and auxiliary control.
- Two faders per channel with separate pairs of master faders for channels 1 to 10 and channels 11 to 20. Can thus be operated as a 20-way 2-scene preset system with two master faders per preset.
- Channels 11 to 20 can be individually switches to automatic control as follows:
11,12,13 Sound/light (bass, mid, treble)
14,15 Auto crossfade A
16,17 Auto crossfade B
18,19,20 Flashing sequence
In the automatic modes the maximum brightness of the lamps is still determined by the fader settings.
- Speed controls for auto crossfades and sequence flasher.
- Individual 'flash off' switches for channels 11 to 20
- Off and 'flash on at maximum' switches for each master fader
- Dead blackout switch
- Two auxiliary dimmer channels with faders and on/off switches
- Two groups of curtain control push buttons
- Four 10 amp switches for non-dim circuits
For suitable dimmers refer to control unit C20/2.
Single dimmers from the industrial range may be used for auxiliary circuits.