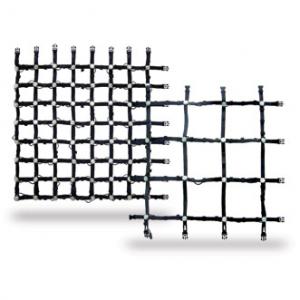 Color Web

From Chroma-Q History website:
"In 2005, we launched the Color Web™ LED matrix system in response to high profile show lighting designer Paul Normandale's request for a low resolution display product that had modularity, transparency and flexibility - enabling it to be layered on stage for unique low resolution lighting and video effects.
With our own R&D already committed to another product at the time, we approached Artistic Licence to design and manufacture the Color Web by adapting it from one of their existing LED products.
Featuring a unique modular design, the 1m² panels clip together on all four sides and can even be joined over distances using separately available interlinking cables, giving designers and users complete control over the size and shape of their display area.
Available in a choice of 125mm and 250mm LED cell pitches and controlled via DMX, the low resolution LED effects system has proven to be an ideal cost-effective solution for lighting companies looking to take their first step into video effects."
The revolutionary Chroma-Q® Color Web™ provides unlimited flexibility and new creative possibilities for designers when it comes to displaying low resolution visual effects.
Artistic Licence is the designer and manufacturer of Color Web, which is exclusively distributed under the Chroma-Q brand.
Modular 1m / 3'3" square panels
Re-configurable display area
Pliable webbing material
Semi transparent
Compact and lightweight system
Flexible DMX control
Low cost