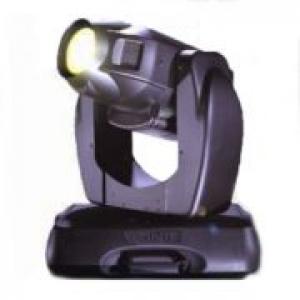 VL2201
Moving head spot

Zoom optics system which provides an adjustable field angle from 13° to 35°.
Variable beam focus to soften the edges of gobos or spots and enable gobo morphing.
Full field dimmer to allow smooth timed fades and fast blackouts.
A mechanical iris which provides continuous beam size control for both rapid beam size changes and smooth timed beam angle changes.
Rotatable gobo wheel which contains five individually rotatable, indexable gobos.
Two, 11-position wheels (plus an open position), for interchangeable dichroic color and gobo selections.
Power factor corrected arc power supply for a Philips MSR400SA arc lamp.
Launched at LDI in 1999 and available in early 2000, the VL2201 was one of two products (the other was the VL2400 Wash) released for the sales market. All Vari*Lite luminaires prior to this were rental only.

From Lighting & Sound International, 24 November 1999
Vari-Lite unveiled its first-ever line of direct sales products at the recent LDI show in Orlando. The new products are the VL2400 series wash luminaire and the VL2201 spot luminaire, which will be available in the New Year. These products are aimed specifically at permanent installations, and focuses for the first time on entertainment venues - such as community arts venues, theatres, places of worship and theme parks - which were not served by the company's traditional rental-only operations.The VL2400 is based on the Emmy Award-winning VL5 family; the 2400 series will six configurations of the 2400 wash luminaire, each with either collimated beam or beam spreader options. Sources include 1200W and 1000W incandescent or 1200W and 625W arc versions. The compact and lightweight VL2201 meanwhile, is based on the VL6B spot luminaire, with 3:1 zoom optics, rotating gobos and a centre beam intensity greater than competing 575W fixtures. Both series are operable through standard DMX-512 standard control consoles, as well as the company's own Virtuoso desk.