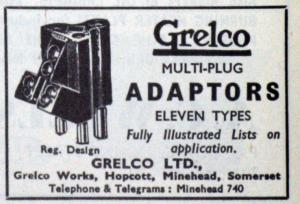 Grelco 15A adaptor advert (1951) via Graces Guide to British Industrial History
5A or 15A two-way adaptor.
Initally manufactured for the UK domestic market, the bakelite Grelco was regularly used in theatres across the country.
A number of products made by Grafton were branded as Grelco, but the term now refers only to the adaptor.
See also Graces' Guide to British Industrial History for other Grafton products.

Current usage: As electrical safety standards have changed considerably since the 1930s, the modern version of the 15A spiltter, although it's still colloquially known as a Grelco) is made from high-impact ABS plastic, and has shutters covering live parts (especially important if only one of the sockets is used).